Welcome to our review of the Urban Arrow Family eBike! Urban Arrow is known for making some of the best cargo electric bikes on the market, but due to their uniqueness, they can be rather tricky to get a hold of. We haven't had the chance to try the Urban Arrow Family for ourselves, but by comparing the Family model against other Urban Arrow eBikes and looking at the components it shares with similar models, we've managed to develop our spec review of the family bicycle. With this electric bike review, we hope to give you a general overview of the performance, features, and key components of the Urban Arrow Family electric bike!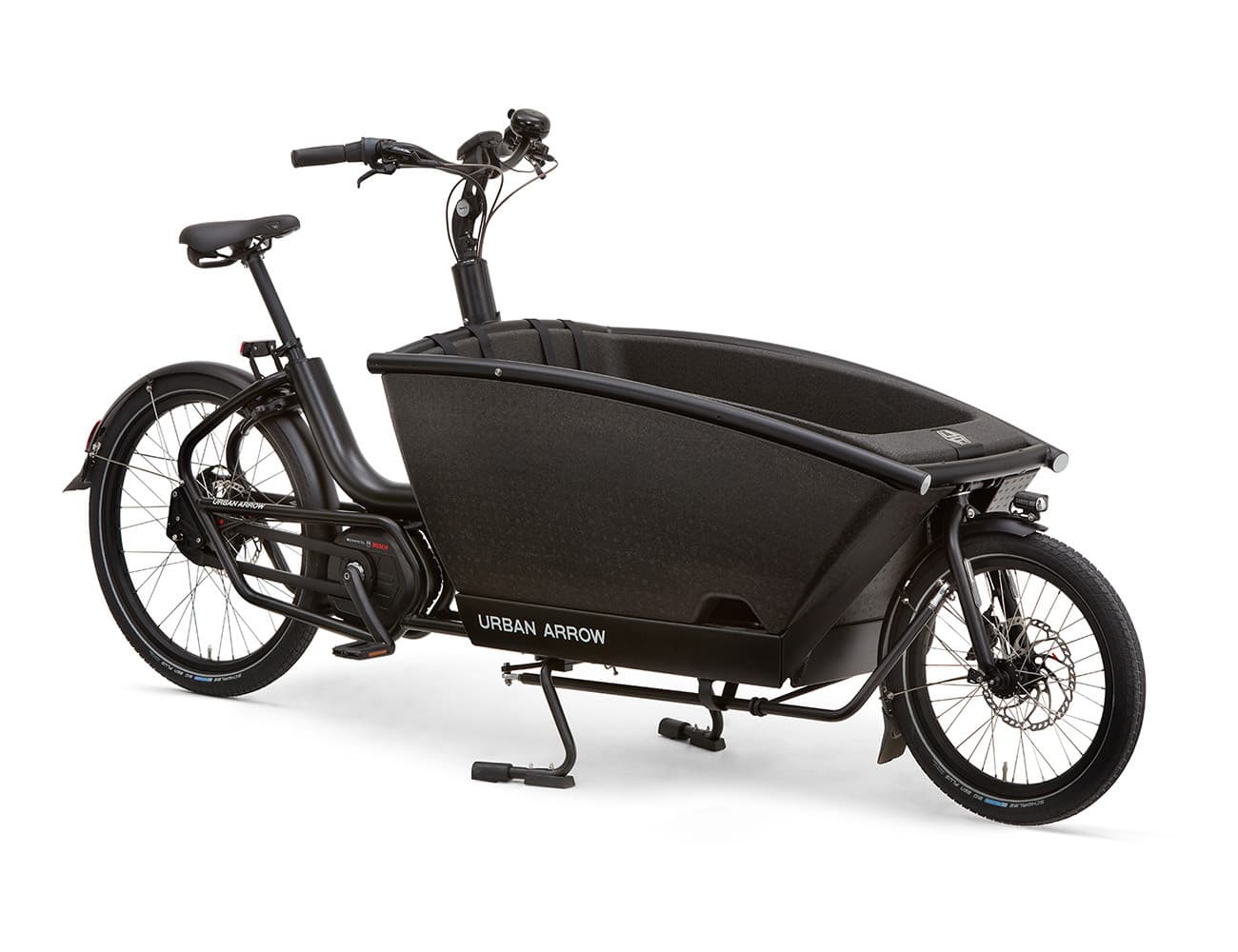 Cycling is a very fun sport, and with new electric motors many bicyclists are finding a fun new way to enjoy their favorite sport. Family bikes are a good way to get in on the fun with your loved ones, and with the Urban Arrow Family you'll be able to join the eBike community with a stylish, comfortable, and solid performance electric bike. The aluminum alloy frame is able to support an adult rider with several child passengers or even another adult, without being so large and bulky that it no longer feels fun to ride. The Bosch Performance Line Cruise 600 W / 50 Nm Motor is strong enough to support up to two adults, and even with the lessor Bosch 400 Wh Powerpack you can travel up to 50 miles on a full charge. The fully enclosed CVT Enviolo drivetrain provides effectively unlimited gear shifting, and you can even customize several other components like the braking system. If you care about safety and comfort combined in the same, powerful eBike, then read on for our full review of why the Urban Arrow Family eBike is for you!
Bike Category: Class 1: Pedal motor assistance to 20 MPH.
Who It's For: Cyclists who want to share the fun of an eBike with their kids, or even an adult passenger on a sturdy, durable electric bicycle.
Bike Specs
FRAME: Aluminum Alloy
UI/REMOTE: Bosch Intuvia
BATTERY: Bosch Powerpack 400 36 V / 11.6 Ah Battery
CHARGER: 4 Amp Charger
MOTOR: Bosch Performance Line Cruise 600 W / 50 Nm Motor
CHAIN: KMC X1 Silver Chain
SHIFT LEVERS: Enviolo Half-Grip Twist Shift on Right
CASSETTE: Enviolo Powered by NuVinci Continuously Variable Transmission
CHAINRINGS: 20 Tooth Chainring
DERAILLEUR: Fully Enclosed Drivetrain
RIMS: Ryde Andra 40 Double wall 20″ x 1.75''
TIRES: Schwalbe Big Ben Plus 55-406
SADDLE: Selle Royal Rio Plus
STEM: TranzX JD-ST17-2 black 1-1/8 25,4 110mm
HANDLEBARS: Ergotec Moon Cruiser 25,4 black
GRIPS: Ergon GC10
BRAKES: Customizable, Shimano 180 mm Deore Hydraulic Disc Brakes
PEDALS: C558 alloy platform pedals with rubber tread
KICKSTAND: Custom Oversized Double Leg Kickstand
BELL: Oversized Bell
HEADLIGHT: Spanninga Kendo+ Integrated Headlight
TAIL LIGHT: Integrated tail light with brake light
FENDERS: Extra Wide Fenders with Rubber Mud Flaps
Pros
Family eBike with a large front passenger container that kids or an adult can ride in comfortably. Great build that doesn't compromise on performance despite the container.
Multiple system models to choose from. Premium eBike, but one you can save money on by going with less expensive components if you aren't performance oriented.
Tough aluminum alloy frame that will help you feel stable and protect your passengers. 104 lbs total assembly weight, able to support several kids or an adult passenger.
Very powerful, premium 4 AMP charger. You'll be able to go from 0% to 100% in just 3 to 3.5 hours, getting you on the road again faster.
Fully enclosed Enviolo CVT drivetrain. A well protected drivetrain that requires very little maintenance, and one that offers practically unlimited gear shifting with its setup.
Powerful motor. Bosch Performance Line Cruise 600 W / 50 Nm Motor. Strong enough to support this family eBike, and with a 50 mile range as well due to its lower power consumption.
Removable Bosch Intuvia display. Great for tracking your metrics, and one of the few displays you can replace on an eBike if you want something fancier or more detailed.
Tires are spot on for this bike. ReflectiveSchwalbe Big Ben Plus 55-406 20'' by 1.75'' tires. Makes it real easy to spot you and your passengers while riding, and offers great support over paved roads.
Multiple braking systems you can choose from in order to save money. The best option are the Shimano 180 mm rotor hydraulic disc brakes due to their steady stopping power.
Headlight, tail light, kickstand, and other premium accessories included. A eBike built for safety in multiple ways, especially with the great lighting options.
Cons
This is an extended eBike that only uses two wheels instead of three like the Urban Arrow Cargo. It will take a few rides to get used to the cumbersome, bulky performance.
Powerpack 400 is fine, but a bit small given the eBike's large size. We would recommend spending the extra money for models with the Powerpack 500 battery.
Some reviewers have noted the kickstand is hard to deploy. Loosen the bolts if this is the case for you.
Features
Aluminum Alloy Frame
As a passenger eBike, especially for kids, you want a frame that is strong enough to protect them while also being comfortable and easy to ride with. By relying on an aluminum alloy base, the Urban Arrow Family does both.
Bosch PowerPack 400 Battery
Despite the larger size and heavy weight of this family transportation bike, the Urban Arrow Family still has a good range thanks to the included BoschPowerPack 400 battery. You can expect to travel up to 50 miles in optimal riding conditions on a full charge.
4 Amp Charger
A lightweight and very powerful charger, typically only included with true premium eBikes. Recharging your battery from 0% to 100% will take between 3 to 4 hours.
Bosch Performance Line Cruise 600 W / 50 Nm Motor
Great mid-drive motor able to drive around the family eBike. Mid-drive motors help the eBike feel more natural to ride as well, even with the large family container mounted on the front of the frame.
Bosch Intuvia Display
2.7'' backlit LCD display to track various riding metrics while using the Urban Arrow Family. One of the few removable motor displays we've encountered, so you can upgrade it if you want something even more advanced.
Fully Enclosed Enviolo Powered by NuVinci Continuously Variable Transmission
The Enviolo drivetrain allows for practically unlimited gear shifting thanks to its CVT design. By having the drivetrain fully enclosed, you'll almost never have to reset your chain or perform maintenance on your drivetrain either.
Schwalbe Big Ben Plus 55-406 20'' by 1.75'' tires
Short, thin tires that ride low to the ground for greater stability, maneuverability, and overall handling. 30 to 55 PSI inflation, so you can ride almost anywhere with the tires if you make a few PSI adjustments.
Ergotec Moon Cruiser Handlebars with Selle Royal Rio Plus Saddle
Swept back handlebars that makes it easy to grab and hold onto the ruber, ergonomic grips. Selle Royal Rio Plus saddle is cushy to sit on, and gives you good clearance to keep track of your family riding up front in the family seating container.
Customizable Braking System
There are several biking brake systems you can choose from when purchasing the Urban Arrow Family, but the braking system we like best is the Shimano 180 mm rotor Deore hydraulic disc brakes. These brakes provide great stopping power, and last longer than your typical mechanical disc brake setup.
C558 alloy platform pedals with rubber tread
Aluminum platform pedals are our preferred pedal choice, since they provide a steady, strong platform that can withstand the occasional crash better than plastic pedals. Rubber tread also makes it nicer to place your feet on the pedals.
In-Depth Review
Frame
The Urban Arrow Family has a hard balance it has to maintain, in that it needs to be a strong, durable eBike able to support a rider and passengers while not being so bulky that it's too difficult to ride. For the most part, it manages to achieve this balance by relying on an aluminum alloy construction that provides good protection for rider and passenger alike. The total assembled weight of the Urban Arrow Family is about 104 lbs, and while that is heavy it isn't that much heavier than some solo rider eBikes we've reviewed. Just be aware that because of how large the Urban Arrow Family is, especially due to the overall length, you're still going to need to adjust and take your time getting used to the Urban Arrow Family even though the company did a great job in designing their eBike.
There isn't much difference in terms of the overall weight support provided by each of the Urban Arrow Family models, though the overall range will be impacted depending on whether you go with the Powerpack 400 Wh or 500 Wh model. Most traditional adults, ranging from 4'11'' to 6'3'', will be able to operate the Urban Arrow Family electric bike. As for the passenger box, you can fit up to three children in it, a couple of older kids, or a single adult if they weigh less than 300 lbs. Just be aware that the eBike does ride differently depending on how you fill the passenger box, so get some practice riding around the neighborhood before venturing out into busier streets.
Motor & Battery
The Urban Arrow Family is a class 1 eBike with pedal motor assist up to 20 MPH.
A strong motor is needed to support the eBike, its rider, and its passengers, and you have it in the form of the Bosch Performance Line Cruise 600 W / 50 Nm Motor. Mid-drive motors benefit from requiring less maintenance than a traditional hub-drive motor, while also maximizing pedaling efficiency and providing a more natural overall riding feel. At 50 Nm, you'll have a strong enough motor able to push you and your passengers along, and on your own you'll be able to climb most hills as well. We would not recommend trying to climb a hill if you have passengers, as not only may it push the motor too hard but it won't be a particularly fun experience for your passengers either due to how the box rides to the ground.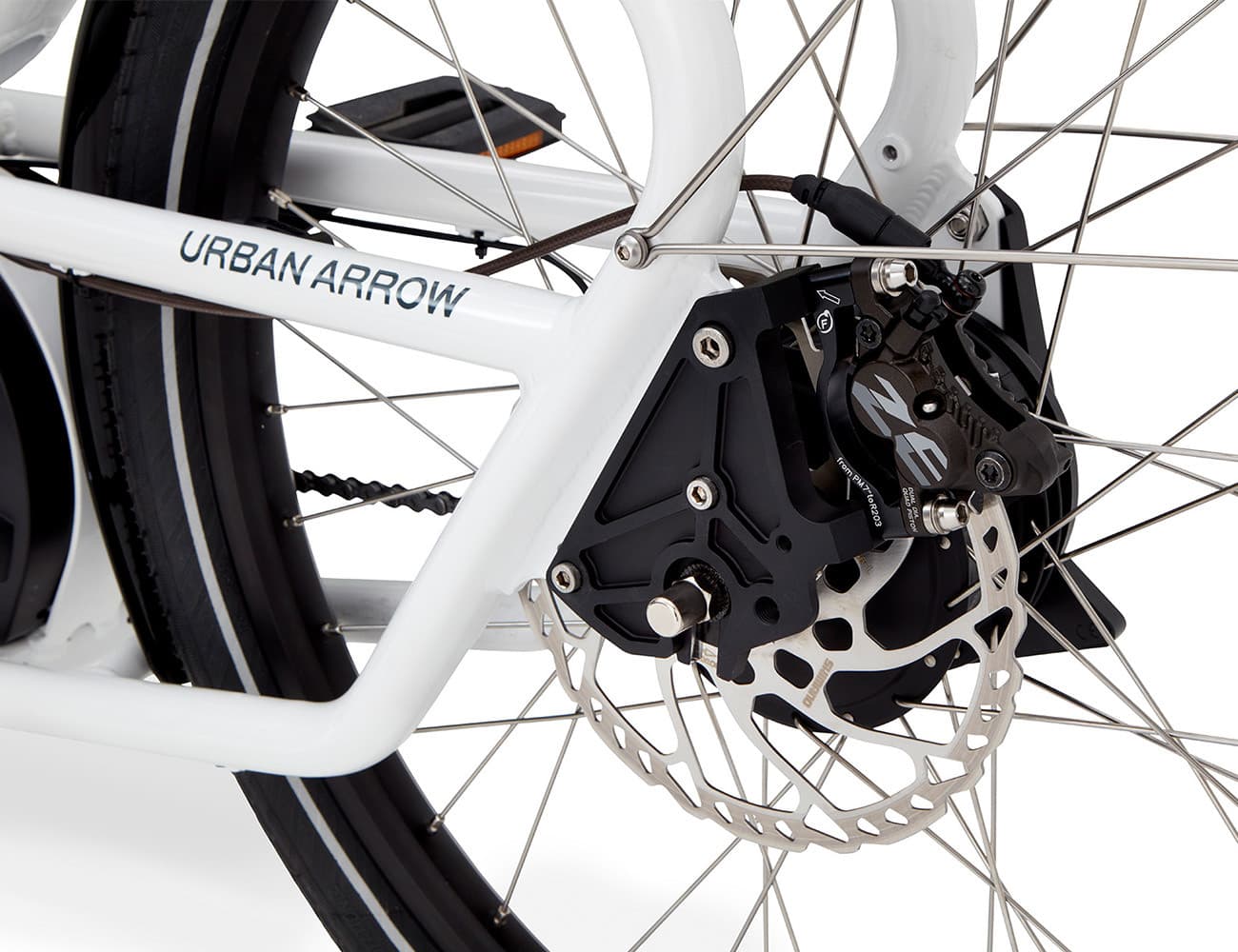 The Urban Arrow Family electric bike is available with both a Bosch Powerpack 400 and 500 Wh battery. The 400 Wh battery does have a maximum range of 50 miles, though you'll typically find yourself traveling just 35 to 40 with the 400 Wh battery. The 400 Wh battery also drains significantly quicker when you have a heavy load, so if you expect to ride with an adult passenger you might only get 25 to 30 miles in before your battery dies. For these reasons, we highly recommend just purchasing the Powerpack 500 Wh model if you can afford it, especially to take full advantage of the premium 4 Amp charger included. 4 Amp chargers are some of the best chargers out there, included with truely great premium eBikes, and will recharge your eBike in just 3 to 4 hours depending on which Powerpack you purchase.
Display/Assist Modes
Going along with your Bosch motor, you also have a Bosch Intuvia display. The 2.7'' display can be used during the day or at night, and has an extensive list of metrics and readouts you can monitor while you ride. Unlike many other eBikes, this is one of the rare displays that is fully removable out of the box, making it real easy to upgrade or replace if you want something more advanced. However, given the long list of riding metrics it provides, it's very likely you'll just want to stick with using the Urban Arrow family electric bike:
Bosch Purion Display Readouts/Metrics:
Current Speed
Max Speed
Average Speed
Current Gear
Assist Level (Four Modes + Walk Mode)
Battery Level (Five levels)
Clock
Watt Indicator
Shift Recommendation
Odometer
Total Distance
Trip Distance
Trip Time
Estimated Range
Light Settings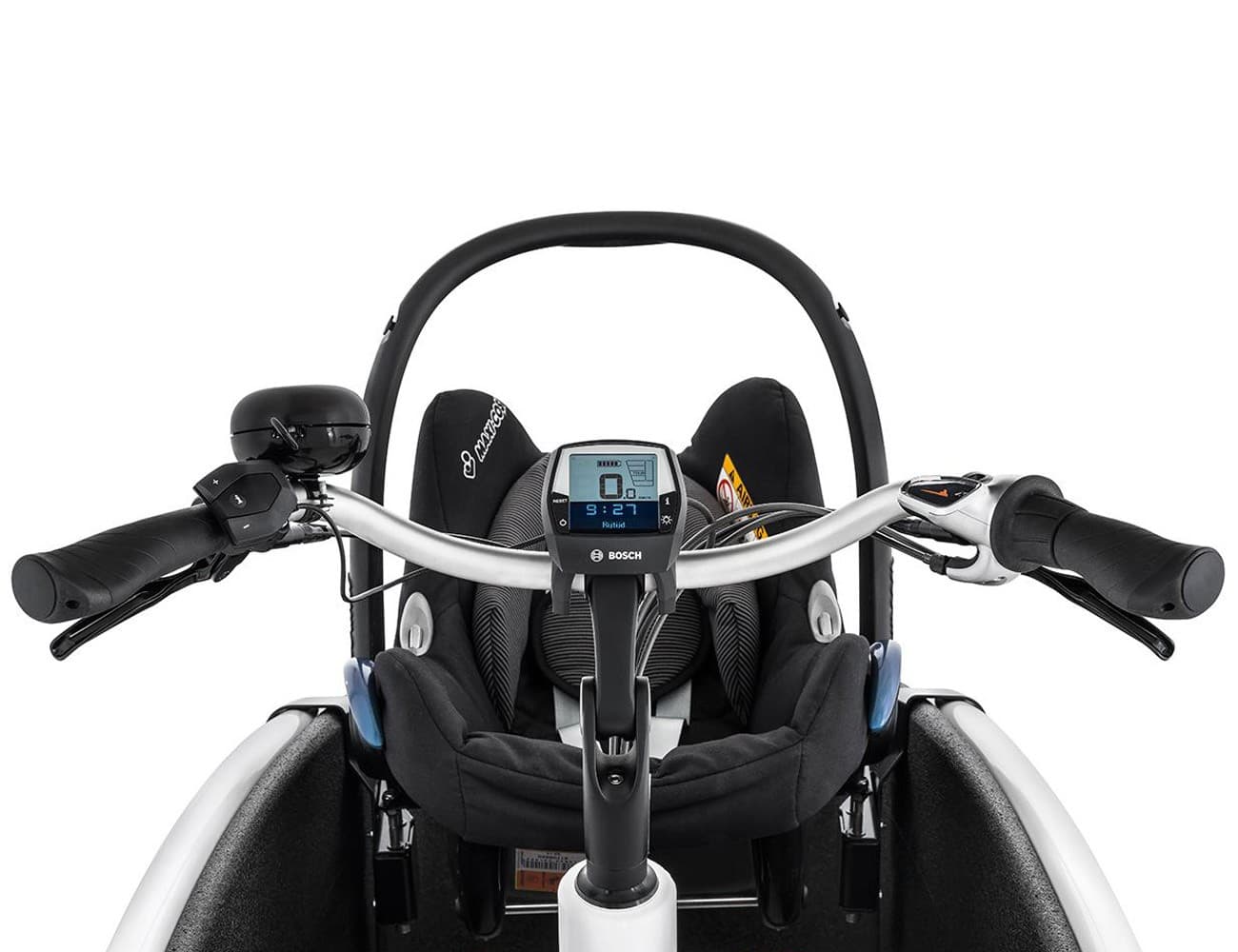 The Urban Arrow Family may be an untraditional eBike, but it still classifies as a class 1 eBike, able to provide motor assistance up to 20 MPH before shutting itself off. The reason for the speed limit on the motor is that if it were to go faster, you would be required to have additional licensing to operate the Urban Arrow Family electric bike. If you want to go faster than 20 MPH, you can still do so via manual pedaling after the motor cuts off.
The Bosch Intuvia has four pedal assist power settings, with the power provided relative to your pedal input expressed as a percentage. They are:
Urban Arrow Family Bosch Intuvia Pedal Power Assistance:
Eco (50%)
Tour (110%)
eMTB (170%)
Turbo (260%)
The lower your pedal power assistance, the longer it will take to hit the 20 MPH speed limit on the motor, though the main benefit is that you'll have a greater range because of the lower power drain. Alternatively, the higher your pedal power assistance, the greater acceleration you will have, but your battery will drain faster and result in a lower overall riding range. Use the lower power settings for casual riding, and the higher power settings if you need to get somewhere quick or are riding over challenging terrain.
Handling
On Streets- Due to the large size of the Urban Arrow Family, it doesn't have the best handling in the world, but it is still good enough that you don't need to be an expert rider to use the Urban Arrow Family. Stick to paved roads, especially asphalt and concrete, and you and your passengers will all enjoy riding around with the Urban Arrow Family.
Turn Radius- Urban Arrow did try to maximize the turning radius of the Family electric bike by going with a thin 1.75'' tire. However, while it does help with the turn radius, the Urban Arrow Family is so long that it's never going to have a very tight turn, no matter what tires you throw on. You can get it through the occasional narrow alleyway or passageway, but be aware that this is not an eBike designed with particularly tight turning in mind.
Low Speed Handling- Much of the Urban Arrow Family's frame is very low to the ground, so despite its heavy weight and long build it does handle well at low speeds. The eBike does have a walk mode, providing motor power while dismounted, and the eco mode is great for low speed handling while riding the Urban Arrow Family. The family eBike is designed for younger children and family members, so it actually performs better at lower speeds than it does past 20 MPH.
Gears/DriveTrain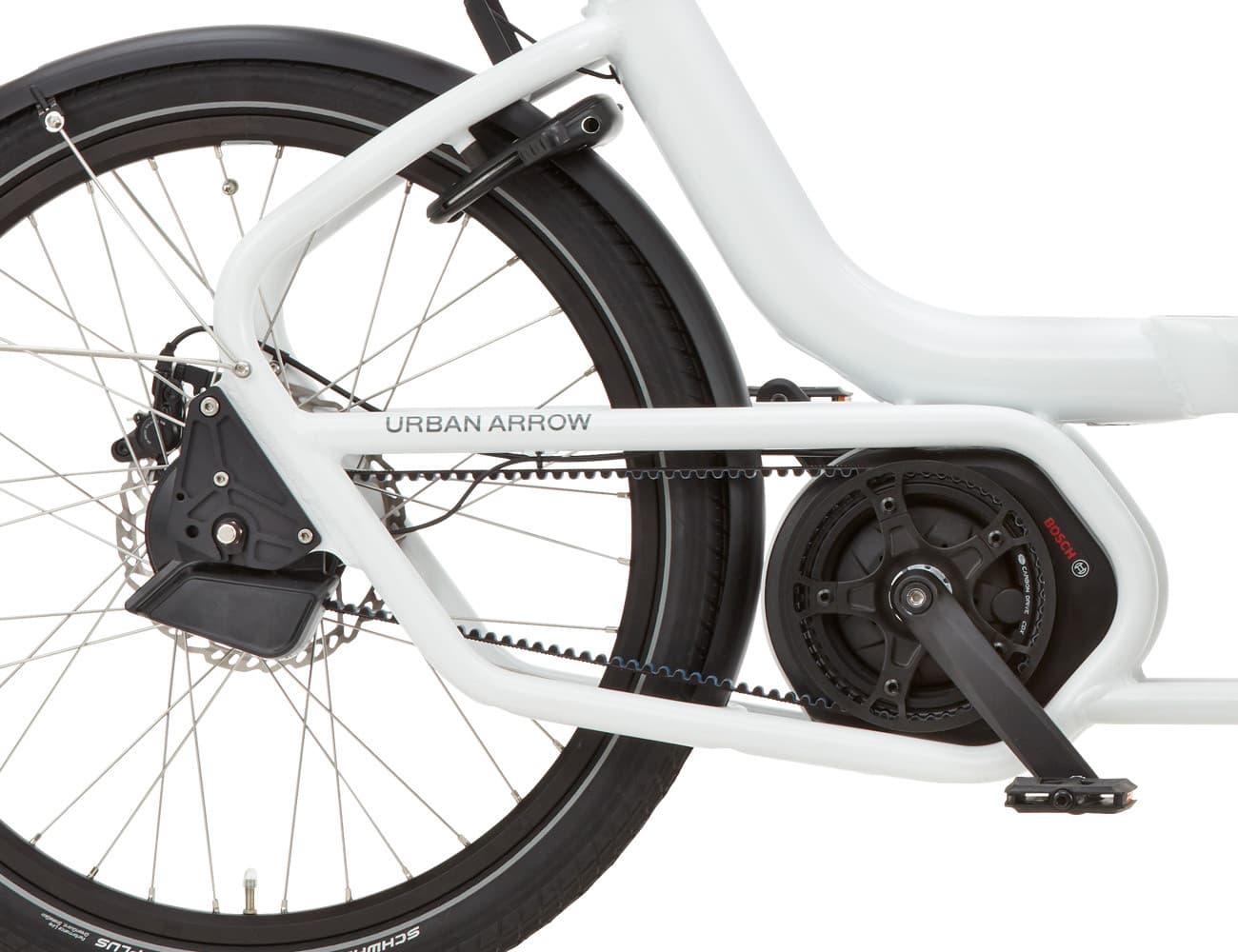 Something very exciting about the Urban Arrow Family eBike is that it is one of the few eBikes out there utilizing the new fully enclosed CVT Enviolo Powered by NuVinci drivetrain. While it does connect to a 20 T chainring, the CVT design provides for practically unlimited gear shifting due to the CVT build that doesn't rely on a traditional derailleur. This also means that you have the added benefit of minimal chain shifting, making it highly unlikely that you will ever suffer a chain drop while riding the Urban Arrow Family. We've tried a couple other eBikes with CVT systems and found them to be fantastic, but they perform much better with a belt drivetrain, even if the included silver chain is very well made. If you want to extend the life of your eBike, besides having a smoother riding experience overall, you'll want to swap out thes silver chain for a belt sooner or later to take advantage of the CVT Enviolo drivetrain system.
Brakes
One of the customization options for the Urban Arrow Family is the braking system, and while all of them are good we suggest picking the Shimano Deore Models. The Shimano Deore 180 mm rotor hydraulic disc brakes last much longer than traditional mechanical disc brakes, besides helping you come to a smoother stop that your passengers will appreciate even if you need to brake quickly. The braking levers themselves are two finger levers, and while they are somewhat small hydraulic disc brakes are far more responsive than mechanical disc brakes, ensuring that you don't need to apply as much force. The braking levers are also built with adjustable reach, so you can have a more comfortable braking setup and further personalize the Urban Arrow Family electric bike.
Suspension
There is no suspension support on the Urban Arrow Family, but you honestly don't really need it for this eBike. The heavy weight and long construction provides plenty of shock absorption on its own, and you shouldn't really be riding anywhere with the family bike that requires even moderate suspension. If you do want to add some sort of suspension support, the stem and saddle can be replaced if you aren't keen on the cushy royal gel seat. As it is though, we think the Urban Arrow Family is fine without additional suspension support, especially if you stick to riding in city streets like you are supposed to.
Pedals
In regards to your pedals, the Urban Arrow Family comes with C558 alloy platform pedals with a rubber tread. It is very common for experienced cyclists to swap out the stock pedals for their own preferred platforms, but with the Urban Arrow Family you'll probably just want to use the pedals that it comes with. The aluminum alloy platforms are quite sturdy, providing greater traction support and durability compared to your typical plastic pedal. Additionally, the pedals have a rubber tread, which further helps your riding shoes maintain a good grip while reducing the wear and tear that comes with riding the hard pedals. Great pedals, with reflective sidewalls to make it easier to spot the rider too!
Grips and Saddle
You want the rider to be just as comfortable, if not more so than their passengers, which is what you'll find with the Urban Arrow Family electric bike. The rubber ergonomic grips are designed with long distance riding, and while you likely won't go on a multi-day excursion with the family eBike you'll still feel good however long you go out thanks to these grips. The rubber grips are also locked onto the handlebar instead of just being glued on, so they're easier to replace when they get worn out. The saddle itself is a Selle Royal Rio Plus saddle, with gel cushioning for a better sitting experience. Once you adjust the stem and handlebars to your ideal height, you'll be ready to go and have a great time riding with the Urban Arrow Family electric bike!
Wheels and Tires
Going over the tires now, you have Schwalbe Big Ben Plus 55-406 20'' by 1.75'' tires mounted on RYDE Andra 40 Double wall 36 hole rims. Stainless steel spokes hold it all together, with a 14 gauge front and 13 gauge rear, with reflective sidewall taping and a performance line raceguard also incorporated into the tires. The recommended PSI inflation rating is 30 to 55 PSI, and while that's a bit lower than your typical city bike the lower PSI does provide a more universal riding experience while still providing good pressure to maintain your momentum and acceleration. The raceguard provides good puncture protection, so you'll very rarely have to deal with a flat, ensuring you and your passengers can ride in greater comfort.
Accessories/Upgrades
Even the most basic model of the Urban Arrow Family electric bike has a number of great accessories and features that make it an attractive eBike option. The headlight and tail light, fenders, high quality pedals, dual leg kickstand, and removable display are just a few of the highlights for this great eBike setup. If you are riding with passengers, there are a few key accessories that will make the trip as enjoyable for them as it is for you, a few of our favorites including:
Urban Arrow Raincovers
Urban Arrow Extra Passenger Bench
Urban Arrow Seat Straps
Urban Arrow Maxi Cosi Adapter
Urban Arrow Yepp Mini Adapter
Urban Arrow Poncho
Urban Arrow Parka
Urban Arrow Rear Carrier Rack
Urban Arrow Luggage Net
Urban Arrow Floor Mat
Recommendation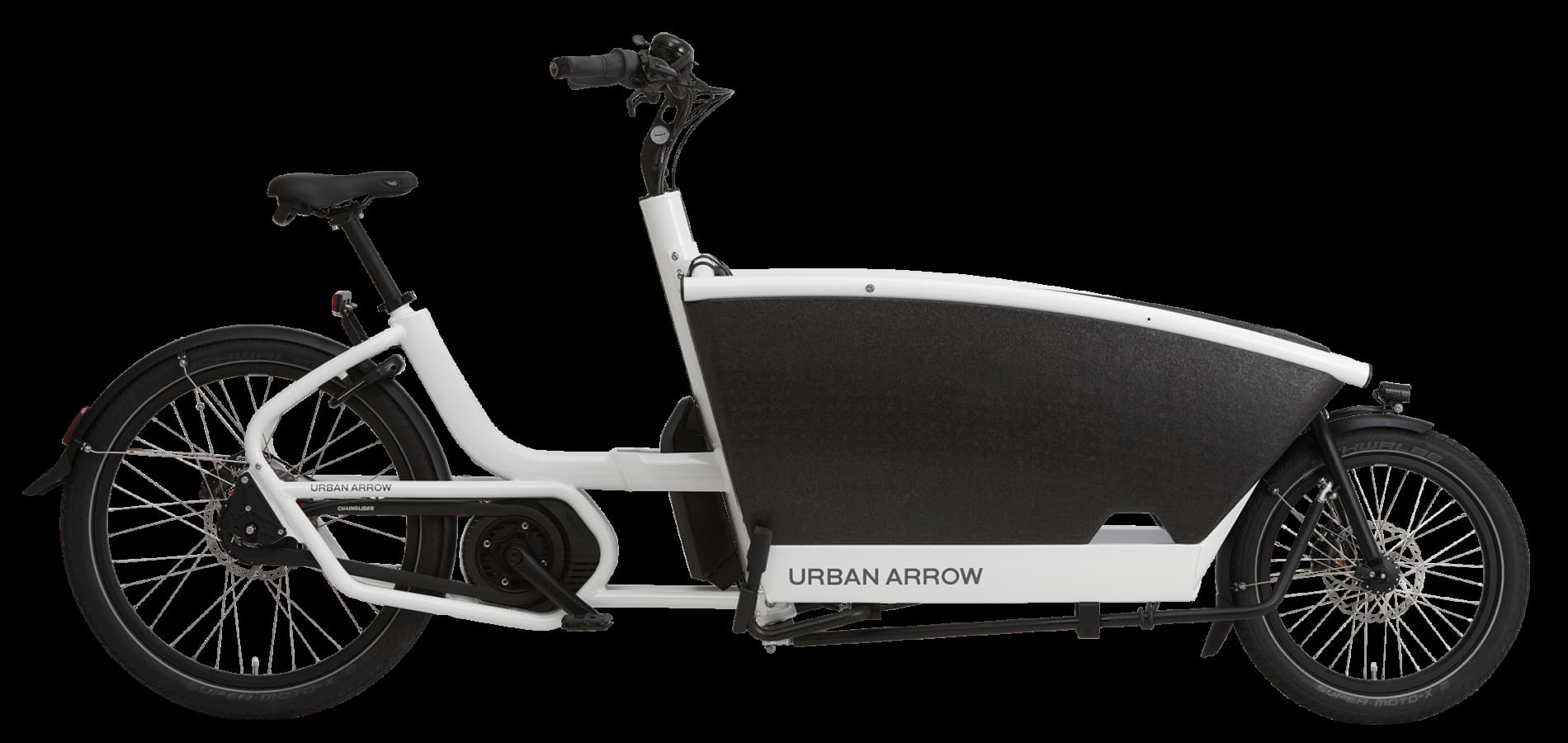 Electric bikes are an exciting development in the world of cycling, and with the Urban Arrow Family you don't have to enjoy this new innovation alone. The Urban Arrow Family will provide a safe yet comfortable ride so that you, your kids, or a second adult passenger can go out together. The eBike does weigh 104 lbs and can be awkward and unsteady the first couple times you go out riding, but after a few trips you'll find it nearly as easy to use as any traditional bicycle. A major reason why is due to the great Bosch Intuvia display, which makes it real easy to control the Bosch Performance Line Cruise 50 Nm Motor and Powerpack 400/500 battery. The drivetrain requires little effort on your part as well while offering great dynamic control, the fully enclosed Enviolo CVT drivetrain offering unlimited and automatic gear shifting to satisfy new and experienced riders alike. You can customize not just the battery, but your braking system as well in order to save money or prioritize performance, though all models of the Urban Arrow Family come with a great lineup of accessories too. Fenders, a headlight and tail light, a dual leg kickstand, and premium comfort pedals, handlebars, and a saddle are just a few of the other premium, standout components. This is a truly premium eBike built for the whole family to enjoy, so if you want to ride an eBike with your loved ones you should definitely purchase the Urban Arrow Family electric bike!
Thank you for reading our spec review of the Urban Arrow Family electric bike! If you have any lingering questions, or would like for us to do a full performance or video review, be sure to let us know by leaving a comment below!