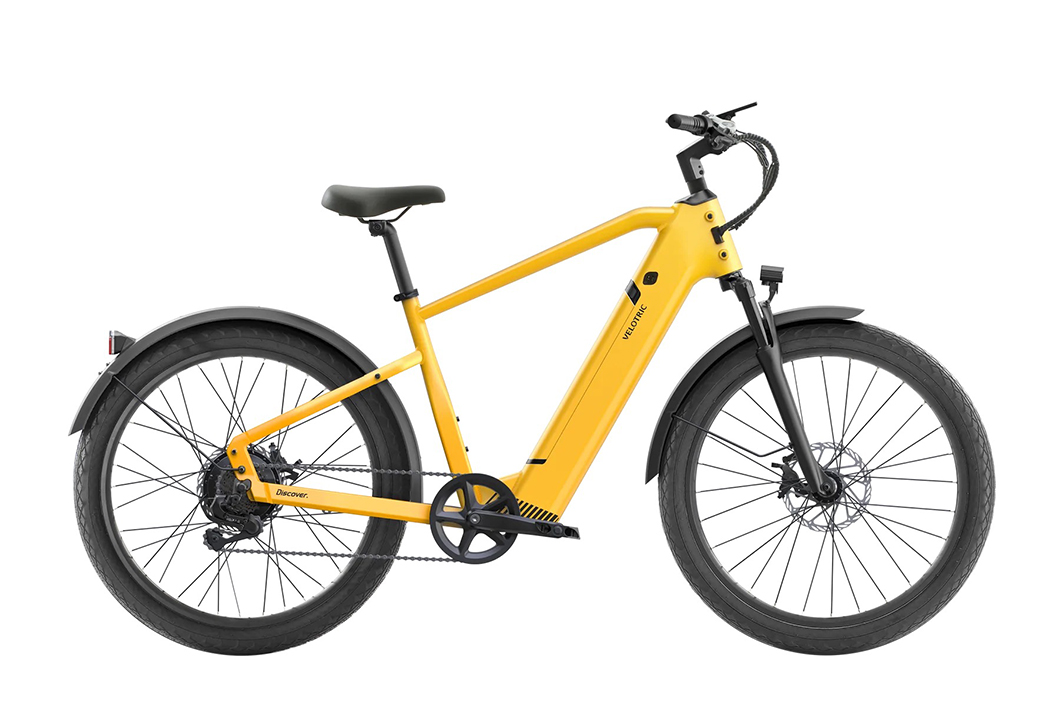 Overall Rating: 4.6/5
Pros:
The 692Wh battery offers riders a range of up to 60 mi. on a single charge and 45 mi. on throttle
500W brushless hub motor provides smooth acceleration to a top speed of 20 mph
26 x 2.5-in. tires offer a very comfortable ride, even on rough roads
Commute-ready: fenders and lights are included
Has fun, but relaxed handling thanks to a long-ish wheelbase and well-positioned battery
7-speed Shimano drivetrain makes climbing hills easy
Cons:
While the mechanical disc brakes will perform well, we would love to see hydraulic discs
The suggested sizing for the step-thru and traditional frames appears optimistic; riders taller than 6 feet 2 inches should examine the fit carefully

Velotric Discover 1 Review: Intro
A versatile commuter e-bike can be a life-changing purchase. Sure, it's transportation, but it's also fun, great for fitness and stress-relieving. That's why the sub-$1500 price tier of e-bikes is a battlefield to see who can offer the greatest possible value. Velotric is a relatively new e-bike company and the Discover 1 is their entry into the admittedly crowded commuter market. In our review of the Velotric Discover 1 we will look at what makes this bike such a value and why any shopper may want to consider it.
Producing a commuter e-bike for less than $1500 is, to use a technical term, a neat trick. In order to reach that tier in pricing without sacrificing a quality motor and battery, most manufacturers reduce expense by going with a more price-conscious drivetrain and brakes. They also tend to eliminate anything that might be called an accessory and limit the bike to features that are absolutely essential. The Velotric Discover 1 is a compelling bike because there aren't any obvious downgrades or omissions. It features a 7-speed Shimano drivetrain, disc brakes and includes a rear rack, full fenders in the front and rear and front and rear lights. It's as complete a bike as we see in the commuter category.
As if those many features weren't enough to make the Velotric Discover 1 an e-bike to consider, we were especially impressed that they chose to produce the bike in both a traditional frame design as well as a step-thru frame. They didn't stop there, either. The Discover 1 comes in four different colors, too.
So let's take a deeper look at the Velotric Discover 1 and explore what sort of value it presents the prospective buyer.
E-Bike Category: Commuter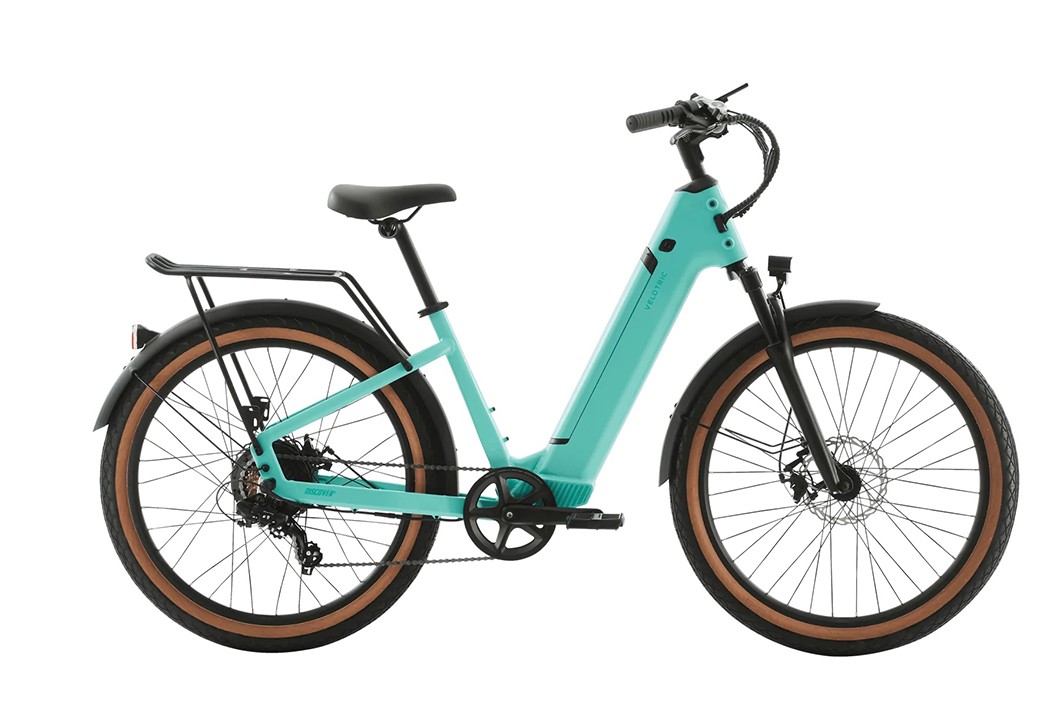 Who the Velotric Discover 1 Electric Bike Is For:
The Velotric Discover 1 is ideal for anyone wanting a comfortable commuter.
Velotric Discover 1 Review: E-Bike Specs
Battery: 48V, 692Wh
Expected Range: up to 60 miles pedal assist, up to 45 on throttle
Motor: 500W brushless hub motor producing 65Nm of torque
Pedal Assist: 0-5 level pedal assist
Display: backlit LCD
Headlight: included
Taillight: included
Frame: 6061 Aluminum
Fork: 65mm spring suspension fork with preload adjustment
Fenders: N/A
Kickstand: heavy-duty aluminum
Handlebars: aluminum, 680mm wide
Grips: ergonomic, lock-on
Drivetrain: Shimano 7-speed
Brakes: mechanical disc with 180mm rotors
Pedals: alloy platform
Saddle: 220mm-wide comfort with lifting handle
Tires: 26 x 2.5 in., puncture-resistant
Velotric Discover 1 Review Ratings:
***All ratings are relative to e-bikes of a similar style and price point***
| | |
| --- | --- |
| Speed/Acceleration | 4/5 |
| Hill Climbing | 3.9/5 |
| Battery Range | 4.2/5 |
| Braking | 4/5 |
| Construction Quality | 4/5 |
| Handling | 4.4/5 |
| Included Accessories | 4/5 |
| Warranty & Customer Service | 3.8/5 |
| Value | 4.6/5 |
In-Depth Velotric Discover 1 Review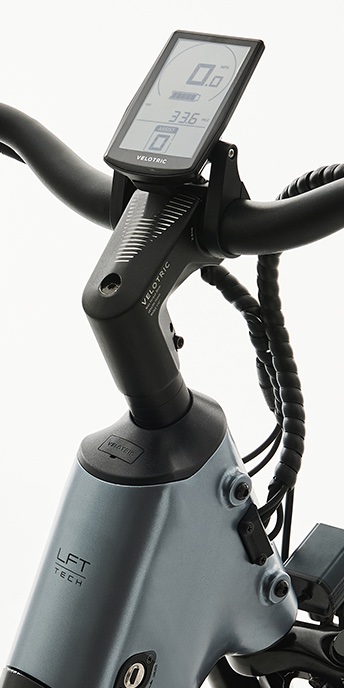 Velotric Discover 1 Review: Comfort, Handling, and Ride Qualities
The single most important aspect of being comfortable on a bike is to select one that fits. A bicycle that is either too large or too small will make for an uncomfortable ride, either by confining a rider to too small a space with not enough reach or leg extension or by asking a rider to reach too much. When the bike fits, a rider feels more balanced and confident on the bike and that affects the handling for the better, as well.
The Velotric Discover 1 is an impressive commuter from a new company offered in both a traditional frame and a step-thru version.
The geometry on the Velotric Discover 1 was a bit of a surprise; in some ways, the bike design reminds us more of a cruiser with relaxed handling and, depending on the height of the rider, a surprisingly upright riding position.
We see suspension forks on commuters with increasing frequency and the 65mm-travel fork on the Velotric Discover 1 offers enough travel to make big bumps more comfortable as well as smooth rough roads.
Because the bike rolls on 26-in. wheels, it will be a bit more agile in its handling than bikes with larger wheels. Smaller riders who may not like the handling of bikes with 20-in. wheels would do well to look at the step-thru version of the Velotric Discover 1, especially as it has a very low standover height of just 15.3 in.
This is a bike that will negotiate busy bike paths easily, giving the rider confidence in corners.

Velotric Discover 1 Review: Motor, Battery, and Drivetrain Performance
Compared to similar bikes in this price range, the feature that stands out most readily is a potential range of up to 60 mi. in PAS 1 and up to 45 mi. on throttle. As Velotric states on their web site, they aren't thinking that riders will take in longer commutes; rather the bonus they see is charging just once a week and for anyone who has ever forgotten to charge their phone overnight, this is a point that sells itself.
This Class 2 e-bike has a maximum speed of 20 mph and comes with a throttle should someone tire before reaching home. The 500W brushless hub motor should give excellent acceleration and because it produces a notable 65Nm of torque, hills should not present an issue.
Should someone struggle with a hill, it features a walk mode to help someone over the top.
The 7-speed drivetrain offers gears low enough to deal with hills as well as enough meat to reach 20 mph and stay there. As we've noted on similar bikes, the Shimano Tourney shifter isn't the most ergonomic, but it works well enough.
Velotric Discover 1 Review: Braking, Safety, Customer Service & Warranty
The Velotric Discover 1 is equipped with mechanical disc brakes (oddly, the specs tab doesn't include the made of the brake) paired with 180mm rotors. The smaller the wheel the less necessary hydraulic disc brakes are; with 27.5-in. or 700C (an even larger size), we definitely prefer hydraulic discs, but with a 26-in. wheel mechanical disc brakes don't pose a problem. That said, hydraulic discs have a smoother feel and not only offer better braking power, the also offer more sensitive modulation.
Anyone planning to commute by bike is likely to be doing some riding in lower-light situations and lights are a key part of staying safe. The Velotric Discover 1 comes with both front and rear lights, though their site provides no information on how bright the lights are.

Like most of the direct-to-consumer brands, the Velotric Discover 1 comes with a one-year warranty on all parts and labor. It's a pretty standard warranty for the D2C segment, but is less than we typically see with bike shop brands.
On the customer service front we need to point out that there are several reviews of battery problem and poor customer service. The level of dissatisfaction and lack of resolution is cause for concern.
Velotric Discover 1 Review: Recommendation/Final Verdict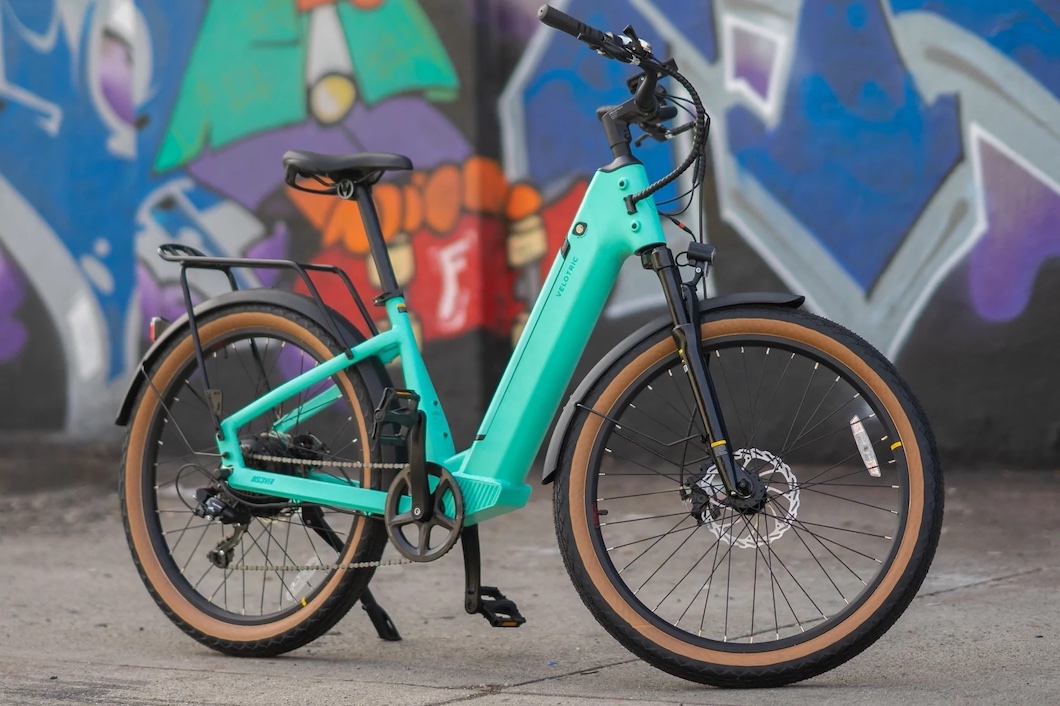 The Velotric Discover 1 is a bike that is easy to like. From the sharp-looking frame design to the terrific colors to the frame mounts for fenders, racks and baskets (including mounts in the head tube for a front rack or basket) and the well-integrated battery, the curb appeal on this bike is strong.
The web site does a great job of explaining the bike overall, but there were some notable lapses like how there was no information about the brakes, though one detail phone was helpful. A bigger lapse, perhaps is our confusion on the rear rack. All photos of the step-thru bike include the rear rack, but none of the photos of the traditional frame show the rack. The specs tab does nothing to resolve this.

Every e-bike brand has an occasional battery issue. We accept that's part of life. What we like seeing is a review where someone mentions a problem, there is a response from someone in customer service about contacting the person and then a follow-up from the customer saying, "Hey thanks for resolving this so quickly!" Seeing reviews from customers who say they've gotten the runaround gives us pause. Also worrying is that all of the negative reviews are less than a month old—their oldest review date from mid-April—which makes us wonder if they delete bad reviews.
Most customers are unlikely to run into an issue, but if someone does encounter a problem, satisfactory resolution may be elusive. A company's reputation will rise or fall based on their customer service or lack of it.
This appears to be a great bike for a terrific price, but we'd be more confident recommending it if they had a better track record of resolving customer issues.
Thank you for reading through our review of the Velotric Discover 1 . Still have further questions? Wondering how it compares to a similar bike? Leave us a question in the comments below and the team at BestElectricBikes.com will answer!
Reader Interactions