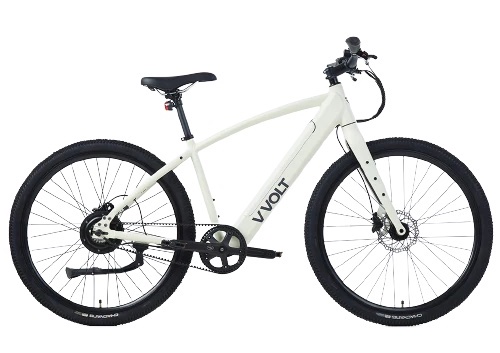 Intro
In the market for direct-to-consumer e-bikes, as with many things, more power is touted as better. As a result, much, if not most, of what we see are e-bikes with 750W motors in e-bikes that weigh 70 lbs. or more. Vvolt has gone in a different direction with the Alpha. The Alpha is a relatively lightweight—less than 45 lbs.—e-bike equipped with a 350W motor and a 374Wh battery. In our Vvolt Alpha review we will look at how the choice of battery and motor helped to keep weight down, giving this e-bike a different sort of feel. Underpowered it is not.
Shoppers looking for an affordable, versatile and lightweight e-bike need look no further. Simplicity is the watchword for the Vvolt Alpha. This is a Class 1 e-bike with a single-speed drivetrain that uses a Gates Belt to replace the chain, making this e-bike quieter than most. It also eliminates most maintenance as well as the risk of ruining pants or car upholstery by having a chain rub up against anything. For commuters, it's an intelligently designed and equipped e-bike. The single-speed drivetrain eliminates the shifter, as well as some weight. And riders looking for an easy-to-customize e-bike will love the large complement of rack mounts on both the frame and fork.
When an e-bike is lighter, it doesn't require as much power to get it moving and up to speed. And reducing an e-bike's weight makes it easier to handle, especially in places where maneuverability is important, like narrow bike paths. Smaller riders also have an easier time managing an e-bike both in the saddle and out of it, when the e-bike weighs less. We don't often see an e-bike that weighs less than 50 lbs., which makes the Vvolt Alpha a very compelling option for anyone who prizes nimble handling.
Let's take a deeper look into the details.
E-Bike Category: Commuter
Who the Vvolt Alpha Electric Bike Is for:
The Vvolt Alpha is ideal for commuters who want a lightweight e-bike that is easy to manage both on and off the e-bike.
Vvolt Alpha Electric Bike Review Ratings:
***All ratings are relative to e-bikes of a similar style and price point***
| | |
| --- | --- |
| Speed/Acceleration | |
| Hill Climbing | |
| Battery Range | |
| Braking | |
| Construction Quality | |
| Handling | |
| Included Accessories | |
| Warranty | |
| Value | |
Vvolt Alpha E-Bike Specs
Battery: 374Wh Lithium-ion
Expected Range:
Charger: 2A
Motor: 350W brushless, geared hub motor, 45Nm torque
Pedal Assist:
Throttle: N/A
Display: LCD, mounted at brake lever
Headlight: Included
Taillight: Included
Frame: 6061 Aluminum, integrated battery
Fork: 6061 Aluminum
Fenders: N/A
Kickstand: Included
Handlebars: Alloy
Grips: Rubber
Drivetrain: Single speed w/Gates belt 50 x 22t gear
Brakes: Hydraulic disc brakes with 160mm rotors
Pedals: Plastic platform with reflectors
Saddle: Gel comfort saddle
Tires: 27.5 x 1.95-in., low-profile tread
In-Depth Vvolt Alpha Review
Vvolt Alpha Review: Comfort, Handling, and Ride Qualities
The Vvolt Alpha is a fairly classic commuter. Vvolt makes the Alpha in two different frame designs, a traditional diamond frame and a step-thru version.
The Alpha comes in two sizes, Small/Medium and Large/XL to help fit as broad a range of riders as possible. With the traditional frame they suggest that riders as small as 5 feet 2 inches can fit on the S/M, but it has a standover height of 29 in., which could be an issue for riders as tall as 5 feet 8 inches. With the step-thru frame the standover height is a more reasonable 27 in., though their suggestion that riders a short as 4 feet 9 inches will fit is similarly ambitious.
The good news for those with sufficiently long inseams is that the reach on both size frames is relatively short, shorter than we see from most direct-to-consumer brands. Practically, what this means is not having to lean over to reach for the handlebar.
The Vvolt Alpha features a flat bar, low-profile road tires and a single speed. Thanks to a Gates Belt in the drivetrain, the Vvolt Alpha is a very low-maintenance e-bike—no chain lube necessary and no ruined pants legs.
The handling on the Vvolt Alpha will please riders who want an e-bike with reasonable agility at slower speeds, but plenty of stability at higher speeds. Thanks to its 27.5-in. wheels, this is an e-bike that will allow riders to remain relaxed even when cruising downhill at better than 20 mph.
Vvolt Alpha Review: Motor, Battery, and Drivetrain Performance
The Vvolt Alpha is an e-bike that is rather modestly powered. It features a 350W brushless, geared hub motor producing 45Nm of torque. The battery's capacity is rated at 374Wh. That's less than half the power supplied by a 750W hub motor, and just more than half the capacity of a 720Wh battery. That may seem woefully underpowered, but a smaller motor and battery do come with certain advantages.
By downsizing both the motor and the battery, Vvolt was able to deliver an e-bike that weighs only 43 lbs. (the step-thru weighs 44 lbs.). It still enjoys a range of up to 40 mi. on a single charge. This is a Class 1 e-bike with a maximum pedal-assist speed of 20 mph, which is to say that riders won't drain the battery with a throttle or the demands of going Class 3 speeds.
The Gates Belt, single-speed drivetrain is simple and straightforward. No worrying about how to shift gears or messy chains. Single speeds can be a bit more work to get going, but the Vvolt Alpha will enjoy good acceleration due to its low weight.
Vvolt Alpha Review: Braking, Safety & Warranty
Aside from the confidence that the good handling will inspire, riders will also be reassured by the hydraulic disc brakes. They are paired with 160mm rotors, not the 180mm ones we often see, but that's not an issue with an e-bike that weighs 43 lbs.
It's common for us to find one or two small details that we would prefer changed to improve the rider's experience, but with the Alpha, the only detail we can take issue with as regards a rider's safety is the integration of the PAS selector and display. Riders can view a display mounted at the stem more easily than one mounted near the brake and when a rider turns their head to see a display there's always a chance they will steer in that direction—where the head points, the body follows.
Notable is the three-year warranty that Vvolt offers on its e-bikes; this is triple what we usually see from direct-to-consumer brands. It's long enough that short of a problem with the frame or fork, if there is going to be an issue, it will turn up in that time.
Vvolt Alpha Review: Recommendation/Final Verdict
One of marketers' favorite ways to sell the public on an updated product is to talk about how it is bigger and/or more powerful. A larger size (or serving) and a more powerful motor/processor/etc. are details we've been conditioned to equate with better. But a more powerful motor and a bigger battery are not automatically superior in the case of e-bikes. There's something to be said for the lighter e-bike. Just what that is can be harder to communicate than, "More power!"
Plenty of people live and/or work in places where at the end of their ride they need to walk up a flight of stairs before stowing their e-bike. Carrying a 43-lb. e-bike up stairs is real work and that alone could be a challenge for some riders. Carrying a 70-lb. e-bike up a flight of stairs may simply not be an option for everyone.
No matter a rider's stature or strength, there's something to be said for the way a lighter e-bike handles. Built with 27.5-in. wheels, a relatively short reach and a flat bar, the Vvolt Alpha is an e-bike many riders will find is very fun to ride.
While we think their sizing guidelines are optimistic, both at the tall end of their range and the smaller end of their range, the fact that they offer two different frame designs as well each frame design in two different sizes mean that the Vvolt Alpha has the potential to comfortably fit more riders than the majority of over e-bikes on the market. Anyone who has ever found the reach to the handlebar to be uncomfortable should take a look at this e-bike.
Thank you for reading through our review of the Vvolt Alpha. Still have further questions? Wondering how it compares to a similar e-bike we've reviewed? Let us know in the comments below!

Reader Interactions