Welcome to our spec review of the VoltBike Urban electric bike! The
Best Electric Bikes
review team hasn't been able to ride the latest version of the VoltBike Urban, but due to high reader demand, and our experience
reviewing similar e-bikes
, we wanted to quickly get a review out there to help you with your purchasing decision.
As a result, we studied the components that the Urban shares with other eBikes, and compared the latest model with past VoltBike releases. We managed to develop our full spec review of the VoltBike Urban eBike, and we hope that it will provide some general thoughts about how it will perform and feel when you ride it.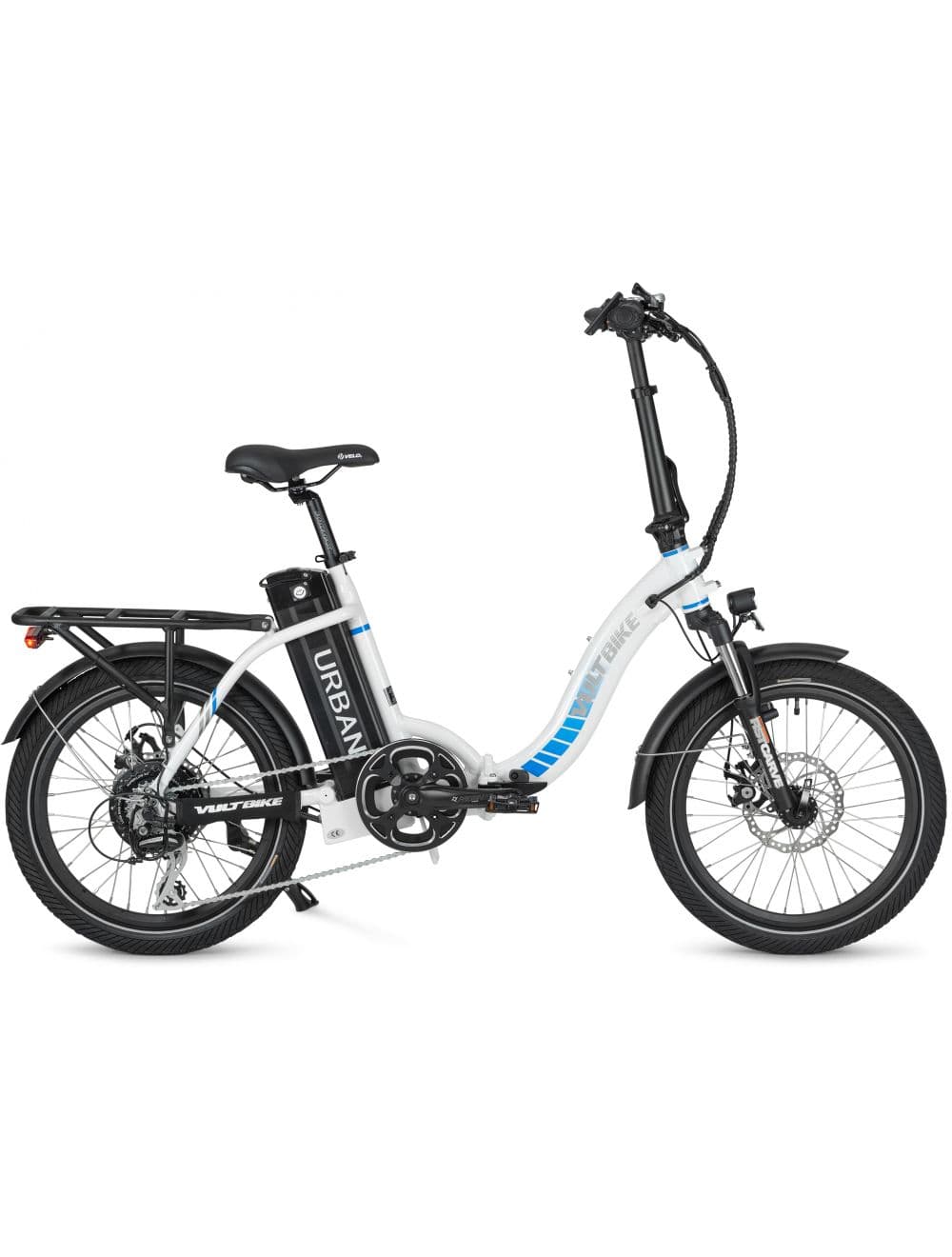 The VoltBike Urban stands out in several ways, and being a lighter folding eBike you can ride in or out of the city. The 6061 aluminum frame is coupled with light suspension support, making it a reliable bike to ride on trails while also being easy to lift and store in the trunk of your car.
The 80 Nm Bafang motor has fantastic performance, and with the 624 Wh battery, you'll be able to travel over 50 miles before you need to recharge. This is an entry-level bike, so be aware you are only getting a 6-Speed drivetrain and 160 mm rotor Tektro mechanical disc brakes, both of which can struggle in specific settings.
While the performance is a little underwhelming, the VoltBike Urban does make up for it in part with premium pedals and a lengthy assortment of accessories, ranging from a great lighting system and comfortable grips to even a helmet included with your order. If you are on a very tight budget but want an eBike you can travel with and ride almost anywhere, then keep reading our spec review of the VoltBike Urban electric bike!
Bike-Category: Class 2 electric bike. Throttle activated motor assistance up to 20 MPH.
Who It's For: Cyclists interested in a powerful, lightweight folding eBike they can ride through town or on a friendly mountain trail—especially well suited for shorter cyclists who find themselves too short for typical eBikes.
Bike Specs
FRAME: 6061 Folding Aluminum Alloy
UI/REMOTE: Intelligent Backlit LCD Display
BATTERY: Lithium-Ion Battery, 624 Wh
CHARGER: 2 Amp Charger
MOTOR: Bafang Rear Geared Hub Motor, 500 W / 80 Nm
CHAIN: KMCe Chain
SHIFT LEVERS: Shimano Tourney
CASSETTE: Shimano MF-TZ20 14-28 T Cassette
CHAINRINGS: Prowheel Forged Alley 52 T Chainring
DERAILLEUR: Shimano Acera RD-410 Derailleur
RIMS: RainBow DA-20, Aluminum Alloy Double Wall 36 Hole Rims
TIRES: Kenda Tires, 20'' x 2.125''
SADDLE: Chaunts Hybrid Saddle
STEM: SVMONO SM-A150-8R Aluminum Alloy Stem
HANDLEBARS: Aluminum Alloy, Low-Rise 640mm length handlebars
GRIPS: Velo, Rubber, Ergonomic Grips
BRAKES: Tektro Novela Mechanical Disc Brakes, 160 mm rotors
PEDALS: Wellgo Aluminum Alloy Folding Pedals
KICKSTAND: Center-Mounted Adjustable Kickstand
BELL: Integrated Bell
HEADLIGHT: Spanninga Trendo Integrated Headlight
TAIL LIGHT: Blaze-Lite RL1900 Integrated Backlight
FENDERS: Aluminum Alloy Fenders with Mud Flaps
Pros
Very affordable class II all-around style eBike. It can be ridden in the city and on light to moderate mountain trails alike. Available in two bicycle colors, and comes with a helmet.
Folding 6061 aluminum frame. The total assembly weight is about 51.8 pounds, making it one of the lightest folding eBikes we've reviewed. Easy to store in the trunk of your car.
Lithium-Ion Battery, with a 624 Wh capacity. The battery is mounted beneath the saddle for more even weight distribution. Travels over 50 miles on a single battery charge.
2 amp charger. Easy to use and can charge the battery while it's mounted on the eBike or once you remove it from the frame. Plan ahead, as full recharge time is 5 to 6 hours.
Bafang rear geared hub motor, 500 W / 80 Nm torque output. Great motor power you rarely see at such a low price point. Climb hills and mountain trails with ease.
Shimano MF-TZ20 14-28 T cassette with prowheel forged Alloy 52 T chainring. High quality steel derailleur reduces how often you'll suffer a chain drop when shifting.
Intelligent backlit LCD display. It offers a great range of readouts to help you monitor your riding performance. A surprising number of settings, including adjustable brightness.
Kenda tires, 20'' x 2.125'' wheels. Designed for all-terrain riding, whether it be on city streets or up the occasional mountain trail. 40 to 65 PSI inflation range.
Tektro Novela mechanical disc brakes with 160 mm rotors. Good stopping power, but can struggle when riding downhill. Easy to maintain, and lightweight too.
Full accessory lineup despite the entry-level price point. Headlight, tail light, kickstand, integrated bell system, and more. The rear cargo rack even folds with the eBike.
Cons
Only available in one size at the moment. While the eBike is excellent for shorter cyclists, larger and heavier cyclists have had issues with the VoltBike Urban.
Wires can get caught on components when you fold it up. Be careful when packing your eBike, or you may damage a key electrical wire when you collapse it down.
The 6-Speed drivetrain is a bit underwhelming. Good performance, but you are limited in your overall gear options.
Limited puncture protection for the tires. Be careful while riding at high speeds or on rugged mountain trails since the tires are more vulnerable to suffering a flat.
Features
6061 Folding Aluminum Alloy Frame
The Step-thru frame weighs just 51.8 lbs fully assembled, which is very light compared to other folding eBikes we've reviewed. Once collapsed, it's easy to store in the trunk of your car or your closet.
Lithium-Ion Battery, 624 Wh
The removable battery is mounted beneath the saddle, centering the weight distribution for a more natural riding experience. Charge on or off the bike, with a 50+ mile range with optimal riding settings.
2 Amp Charger
The standard charger you find with many electric bikes, especially those with an entry-level or mid-tier price. You can fully recharge the battery from 0% to 100% in about 5 to 6 hours.
Bafang Rear Geared Hub Motor, 500 W / 80 Nm
A surprisingly strong rear gear hub motor that you don't typically find on such inexpensive eBikes. With 80 Nm of torque, you'll be able to travel almost any hill you come across, whether you're riding in the city or on your favorite trail.
Intelligent Backlit LCD Display
The backlit LCD can be used during the day or at night, with customizable brightness settings for easier reading. It provides many metrics, but it can be a little cluttered due to the limited screen changing.
Shimano MF-TZ20 14-28 T Cassette with Prowheel Forged Alloy 52 T Chainring
6-Speed eBike, so you're a bit limited when it comes to your overall gear options on this entry-level eBike. High quality steel derailleur guard reduces the risk of suffering a chain drop while you ride.
Kenda Tires, 20'' x 2.125''
Short, balanced tires designed for all-terrain riding. Whether you want to head to work or go trail riding with some friends, you won't need to adjust the Kenda tires. Be careful, though, as there is minimal puncture protection on these tires.
Low-Rise Handlebars with Zoom Masera Spring Suspension and 50 mm of Travel
Low-rise handlebars with ergonomic grips so you can ride for hours without tiring your arms out. Moderate suspension support, helping you tackle light trails or the occasional bumpy cobblestone road.
Tektro Novela Mechanical Disc Brakes, 160 mm rotors
Simple, easy to maintain mechanical disc brakes that are also lightweight, making it easier to transport the VoltBike Urban. Suitable for city and light trail riding, but will struggle riding downhill at high speeds.
Wellgo Aluminum Alloy Folding Pedals
Aluminum alloy platform pedals. Better traction support compared to your average plastic pedal, and more durable as well. The pedals fold with the eBike, making it even easier to store it in the trunk of your car.
In-Depth Review
Frame
The VoltBike Urban is built with a 6061 aluminum alloy frame; the same aluminum alloy used to construct boat, automobile, and even aircraft components. The reason why 6061 aluminum is so popular is that it is lightweight, affordable while still very sturdy and durable.
The Voltbike Urban weighs 51.8 pounds fully assembled, and while a bit heavy for a single person to lift, it is relatively light for a folding eBike. Instead of needing a dedicated bike rack, just collapse the eBike down and toss it into the trunk of your car or store it in your closet for easy long term storage. The Urban is available in two colors, as pictured in our review and on the VoltBike website.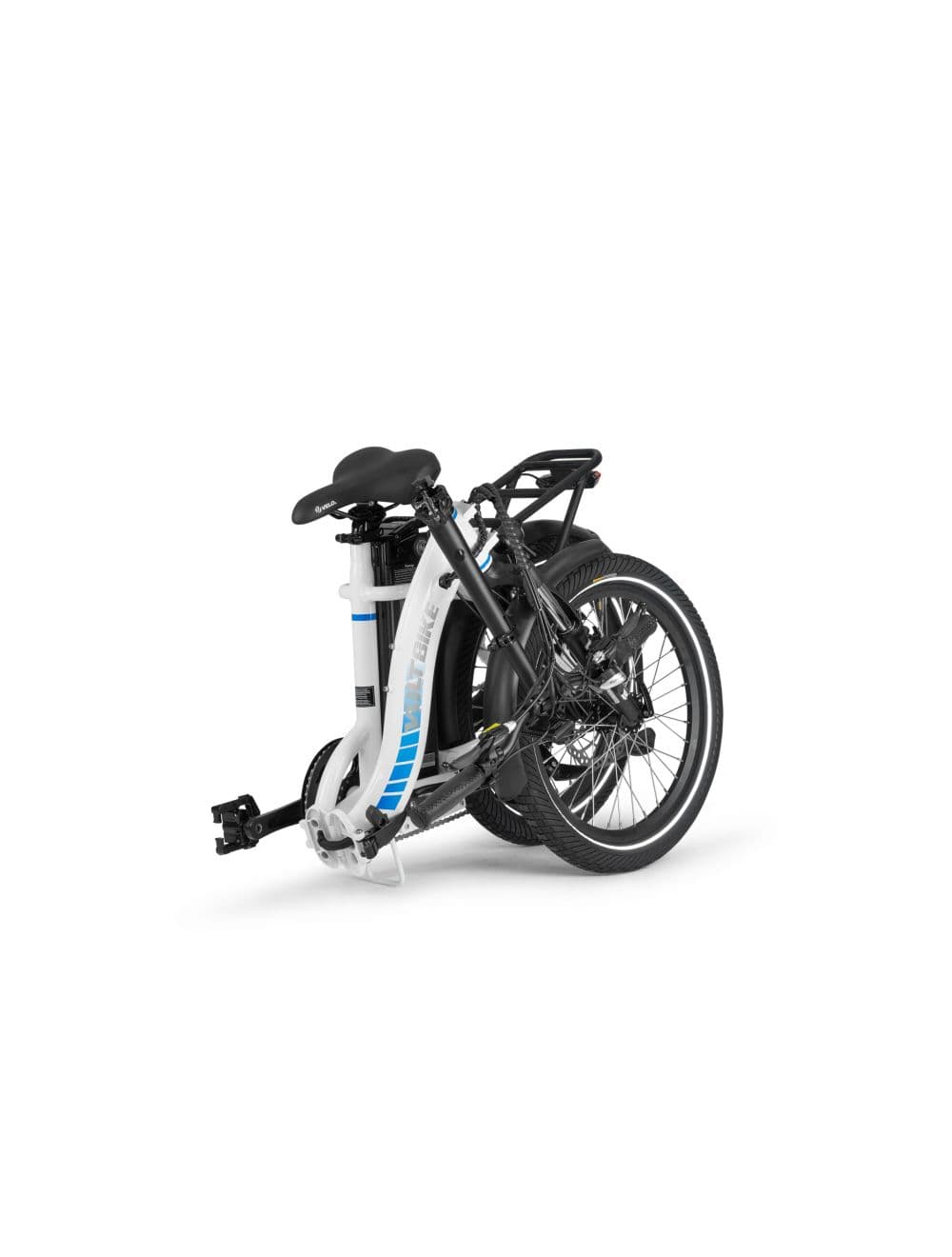 While the Urban has a great frame, we hope to see improvement going forward with additional frame sizes. The step-through eBike is excellent for shorter cyclists overwhelmed by other eBikes, but it doesn't accommodate taller, heavier riders.
As a result, many cyclists who are 6' and taller find the BoltBike Urban isn't comfortable to ride. If you're taller than the average adult, you'll want to consider a different VoltBike model, though, with an adjustable saddle, you might make it work depending on how you ride.
Motor & Battery
The VoltBike Urban is a class II eBike, with a pedal and throttle activated motor assistance system up to 20 MPH.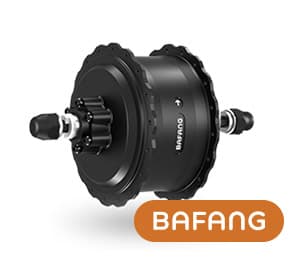 The VoltBike Urban has a Bafang rear geared hub motor, with an average power output of about 500 W / 80 Nm of torque. Whether you need extra power to keep up with traffic or boost up a hill, the powerful motor is great for helping you travel on roadways and trails alike. You don't ordinarily see such a quality, powerful engine at this low price point, so it's a fantastic inclusion on the VoltBike Urban.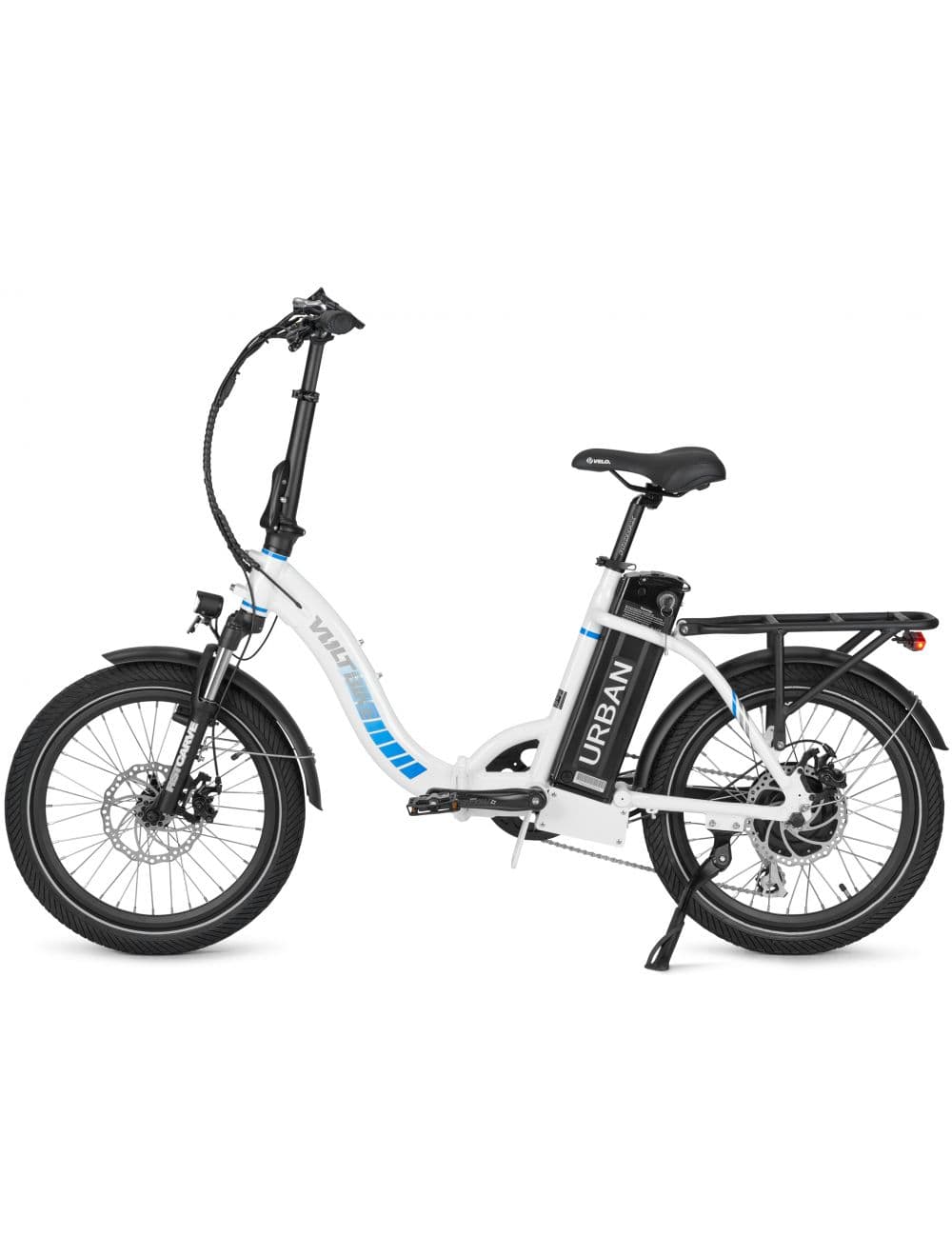 While not as impressive, there is still much to like about the battery and charger setup as well. The lithium-ion 624 Wh battery can travel over 50 miles on a single charge, dependent on how you configure the general riding settings.
A basic 2 amp charger, typical of most entry-level eBikes, is included and is easy to travel with by storing it in your backpack or a bag you attach to the rear cargo rack. Plan ahead when you need to recharge your battery since it does take about 5 to 6 hours to recharge the included battery fully. Thankfully, the battery is removable, so you can take it indoors with you and charge it at your desk while you work, making sure your battery is topped off by the time you head home for the day.
Display/Assist Modes
Located in the middle of the handlebars, the VoltBike Urban features a unique Intelligent LCD display. This control panel packs an impressive number of readouts onto its screen, and while it can feel a little cluttered, you don't have to switch screens to check different readouts either.
Even more impressively, there are a total of nine levels of pedal-assist with the Urban eBike, and that isn't even counting the walk mode. You can even adjust the backlight brightness settings for the display screen, something you don't see in many advanced LCD displays. A full list of riding readouts, metrics, and settings packed into this impressive LCD display includes:
VoltBike Urban Intelligent LCD Display Readouts, Metrics, and Settings:
Current Speed
Average Speed
Max Speed
Battery Level (Five Levels)
Battery Percentage
Pedal Assist Level (Nine Levels + Walk Mode)
Trip Distance
Odometer
Current Ride Time
Light Settings
Brightness Settings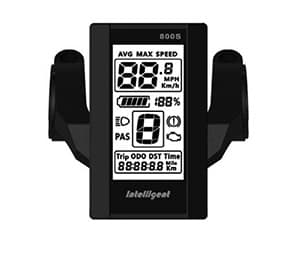 With nine levels of pedal-assist to choose from, you have dynamic control over your eBike motor performance. Pick a high pedal-assist level for maximum motor power and acceleration, though be warned it will drain your battery quicker as a result.
Alternatively, you can also pick a low pedal-assist level for maximum battery life and range. However, because of the decreased battery power output, you won't travel as quickly as a result. Switching your pedal assist level can be done with the click of a button even while you're already moving, so feel free to change and experiment with the pedal-assist levels while familiarizing yourself with the VoltBike Urban.
However, as a word of caution, be aware that the throttle is unaffected by any pedal assist level changes. When you use the throttle, it will set the motor to max power, so don't be surprised if you suddenly find yourself shooting forward as you twist the Urban's throttle.
Handling
On Streets- The VoltBike Urban is a more all-around style eBike than a dedicated city commuter, so it has some distinct differences compared to a proper city bike. The Urban isn't as fast as city commuters due to its heavier design and shorter tires, but it makes up for it with better traction and weight support for a more stable ride. Furthermore, the Urban has moderate suspension support and combined with its design; you'll hardly feel the vibrations that come from riding over cobblestone and other bumpy terrains. Overall, the VoltBike Urban offers a smooth and enjoyable riding experience and is well suited for casual cyclists looking for a brand new way to explore the city.
Turn Radius- The VoltBike Urban has short, even width tires that make it one of the more beginner-friendly eBikes we've had the chance to review. The Urban is straightforward to get through doorways and narrow alleyways and handles corners with ease due to its increased traction support. What it may lack in speed, it makes up for with a great turn radius–especially for those who feel nervous or unsteady turning on other electric bikes.
Low-Speed Handling- The VoltBike Urban weighs about 51.8 pounds, and while that's lightweight for a folding eBike it's on the heavy side for someone who rides at low speeds. Fortunately, you can set your pedal assist level to a low number, which will provide just a small boost to help you focus on your handling without forcing you to pedal faster. If you want an even more leisurely experience, we also recommend dismounting from your eBike and turning on walk mode. Walk mode will push your eBike without pedaling and is an excellent option if you need to walk the bike up a tough hill. Just make sure you don't touch the throttle while you're dismounted, as it will cause the cycle to shoot out of your hands if you aren't ready for max motor power.
Gears/DriveTrain
Next, we want to highlight the drivetrain for the VoltBike Urban. You can expect a Shimano MF-TZ20 14-28 T cassette with a prowheel forged alloy 52 T chainring, a KMC eBike optimized chain connecting the two. The 6-Speed eBike is limited when it comes to your gearing options, meaning that you won't be able to vary your cadence as much even compared to other entry-level eBikes.
However, this drivetrain is exceptionally reliable, primarily due to the premium steel derailleur guard that assists in gear shifting. If you stick to urban or light trail riding, you will rarely have to worry about suffering a chain drop. The derailleur is also great for helping keep your drivetrain pristine if you suffer a significant crash. We also appreciate the included aluminum-alloy fenders and mud flap, which helps keep the drivetrain clean and free of debris while riding.
Brakes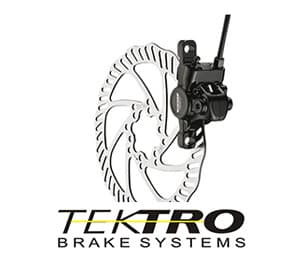 Given the purpose and recommended environments for this eBike, the included Tektro Novela mechanical disc brakes are sufficient for the VoltBike Urban. The eBike features 160 mm sized rotors, which provides reliable stopping power if you're riding on a paved road or down light to moderate mountain trails.
The small rotor size keeps the eBike weight down, and mechanical disc brakes are easier to pack down, given that this is a folding bike compared to hydraulic disc brakes. Even so, we wish larger rotors were included because while it makes the bike larger and heavier, 160 mm mechanical disc brakes aren't enough for a safe and steady stop while riding at high speeds down a hill. If you're careful where you ride, though, the included Tektro Noveal mechanical disc brakes are dependable enough for most riding occasions.
Suspension
While not the most advanced suspension system in the world, we are glad to see a Zoom Masera spring suspension included on the VoltBike Urban. This system features 50mm of travel, with a quick-release skewer for easy suspension and wheel maintenance. The suspension system isn't enough to tackle challenging, hard mountain bike trails, but it is enough to help you have a smoother riding experience in the city as you ride over cobblestone roads and gravel paths.
Furthermore, while you'll want to stay away from extreme trail rides, light to moderate trails are well suited for the VoltBike Urban. Know your limits, and you will have a blast riding with the VoltBike Urban eBike!
Pedals
The VoltBike Urban has opted to include truly premium Wellgo aluminum alloy platform pedals. The pedals are more durable than the plastic pedals you often find on entry-level eBikes, and also have the added benefit of providing better traction support for your shoes as well.
We especially appreciate these pedals because they have a unique folding design, compacting with the Urban rather than jutting out like some other folding bikes. As a result, you don't have to worry about snapping off your pedals when you store the Urban eBike. It's a small detail but an important one that contributes to the quality of the VoltBike Urban ebike.
Grips and Saddle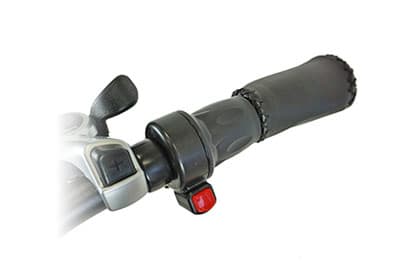 The VoltBike Urban only has a single frame size, but what it lacks in frame options it does make up somewhat with several different customizable components. The Velo ergonomic grips are comfortable to hold onto, with a cushioned rubber design you can grasp for hours without worrying about irritating your hands.
The adjustable low-rise handlebar will help you cruise in comfort, though you can raise the height if you want a more aggressive riding style as well. As to the saddle, the Chaunts Hybrid seat will be great for the average cyclists, though we did find that it was a little too small for large, heavy riders. Once again, we wouldn't recommend the VoltBike Urban to cyclists who are 6' and shorter, but to everyone else, we would suggest checking out this folding all-around eBike.
Wheels and Tires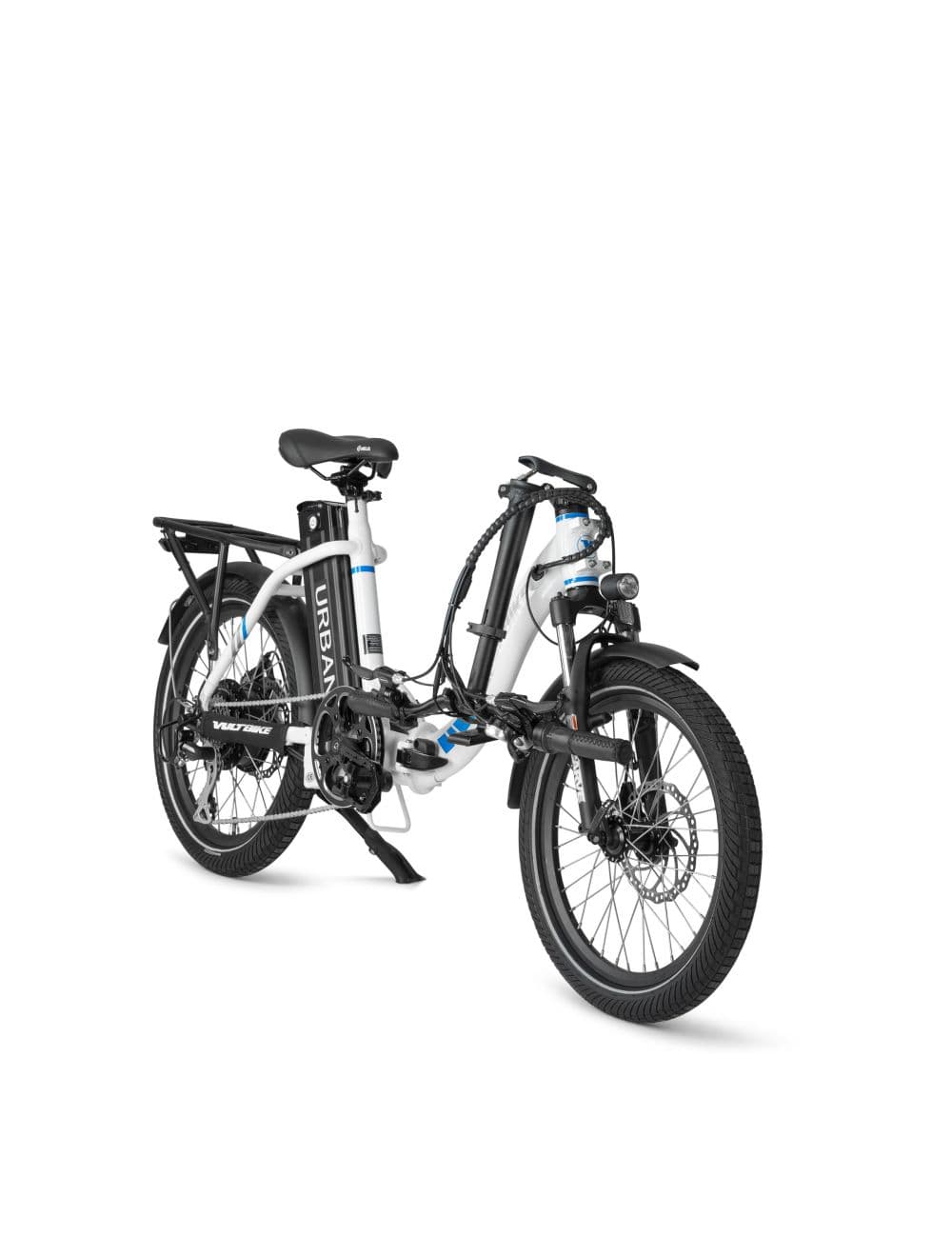 While they may be the last major component we discuss, the wheel configuration is still very much worth highlighting. The VoltBike Urban features Kenda 20'' x 2.125'' tires, with RainBow DA-20 aluminum alloy double-wall 36 hole rims. The front wheel has 14 gauge spokes, while the rear wheel is a bit lighter at just 12 spokes. The tires have a recommended inflation range of 40 to 65 PSI, with 40 PSI a good number for light trail riding, while 65 PSI is better for maintaining high acceleration and traction support on the road.
For the most part, this is a reliable wheel setup, but we are disappointed by the tires' lack of deep puncture protection. Be wary of riding at high speeds or over incredibly bumpy terrain, as the VoltBike Urban is more prone to getting flats than many of the other eBikes that we have reviewed.
Accessories/Upgrades
While the performance might be lacking in some ways on the VoltBike Urban eBike, the incredible value of the Urban eBike shines through with the accessory lineup. We mentioned the premium aluminum pedals and fender coverage, but you also have a powerful headlight, tail light, kickstand, and even an integrated bell, all included for additional rider safety.
One of the coolest accessories the Urban eBike comes with isn't even on the bike. Every VoltBike eBike order comes with a brand new helmet. There are four helmets to choose from, and if you already like the helmet you own, you can swap it out for a top tube bag instead. The VoltBike Urban offers an incredible value, so with the money you're saving, consider adding other accessories as well:
VoltBike External Clamp Mirror
VoltBike Internal Wedge Mirror
VoltBike Pump Micro
VoltBike Seat Bag
VoltBike Trunk Bag
VoltBike Pannier Bag
VoltBike Foldable Bike Lock
Recommendation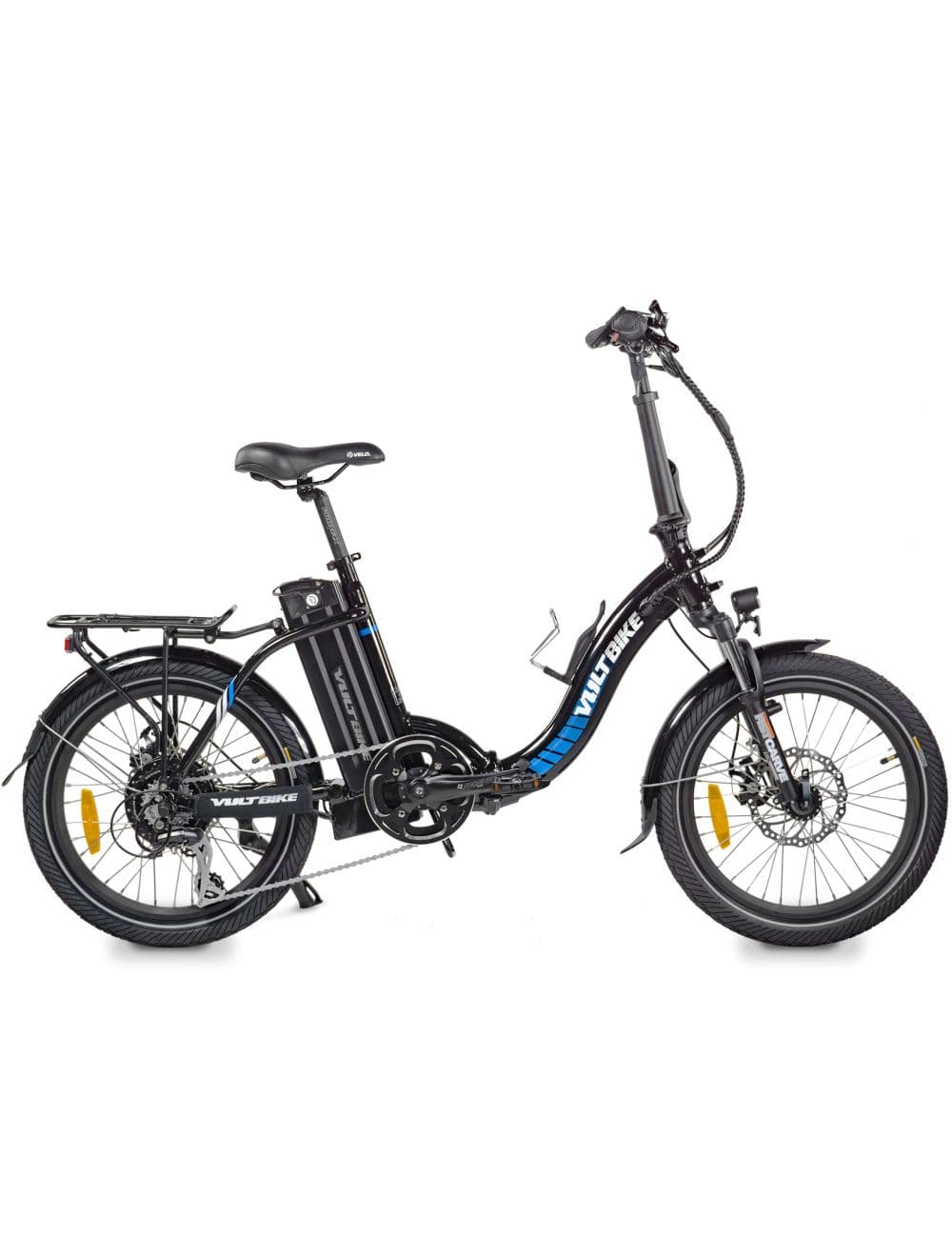 The VoltBike Urban is an excellent entry-level option for those brand new to electric bikes or are looking to add a travel-friendly bike to their collection. The 6061 aluminum alloy folds nicely, if you watch the wires, and has good suspension support that will help you ride almost anywhere you want.
The great Bafang rear-gear hub motor has an 80 Nm torque output, helping you tackle steep hills and trails with ease, and with the right pedal, settings can travel over 50 miles on a single charge.
The 6-Speed drivetrain doesn't provide great gear control, but it is consistent and rarely suffers a drop due to the high quality steel derailleur guard. Similarly, the 160 mm rotor Tektro mechanical disc brakes will struggle to stop at high speeds, but it keeps the bike light with easy to service brakes that perform well for casual rides.
While we're mixed on the performance, we are thrilled by the number of great accessories that the bike comes with, especially when you consider the high-quality helmet or bag added to your order for free.
If you want a very affordable folding eBike, and one that you can store in a car without having a friend help you, consider purchasing the VoltBike Urban electric bike!
Thank you for reading our review of the VoltBike Urban electric bike! We hope you enjoyed it and invite you to leave a comment if you want to see our team do a full video or performance review of this electric bicycle.