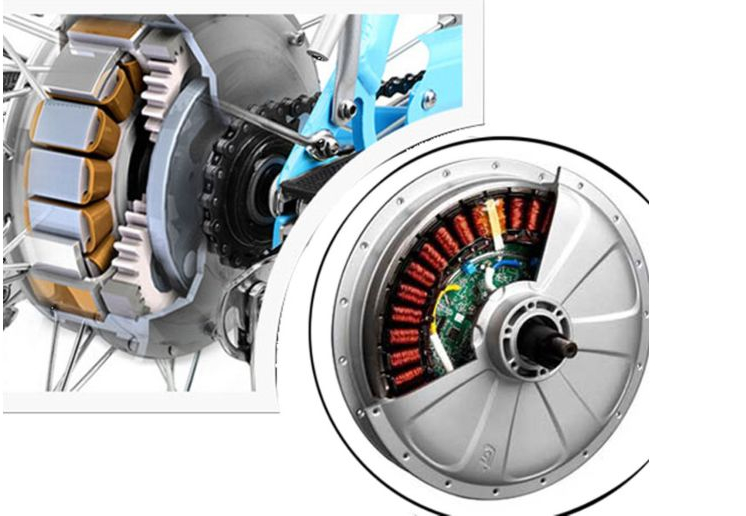 Readers of Best Electric Bikes or any other e-bike site will notice that most reviews make explicit mention of motors that are "brushless" and "geared." And anyone who doesn't have a degree in electrical engineering probably wondered just what that meant. We've covered the question of just what it means to have a "geared" motor here. In this piece we will tackle just what it means to have a brushless motor.
Before we get into how a brushless motor differs from one with brushes, we need to discuss the basics of generating electricity. Electric motors turn electricity into kinetic (motion) energy. Let's take a moment to consider how batteries use a chemical reaction to generate electricity. The idea that we can turn a chemical reaction into motion (not the same thing as Mentos in a Coke bottle) is pretty mind-blowing.
The parts of an electric bike motor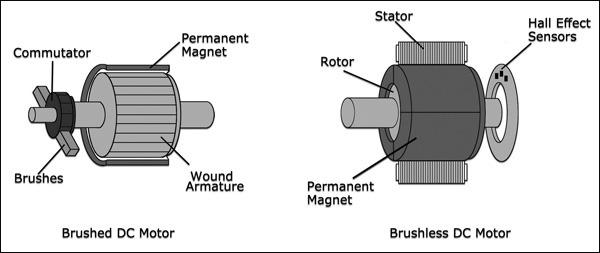 At its most basic, an electric motor has two parts. There is the stator, which has two magnets, and is usually built into the motor's housing. Then there is the rotor, which also has magnets, is as the name suggests, the rotor is the spinny thing in the middle of the motor. A little dollop of Latin helps us keep these two straight—stator as in static, or unmoving, and rotor as in rotating.
In order for an electric motor to work, one set of the magnets need to be permanent magnets, like the ones on a refrigerator. The other set are electromagnets. These magnets are coils of wire that generate a magnetic field when an electric current is sent through them.
The electric current goes through the coils of wire and the resulting magnetic field causes the rotor to turn toward the permanent magnets with the opposite pole. Electronics switch the polarity of the electromagnet and that change keeps the rotor turning toward the other set of magnets.
Brushed vs. brushless e-bike motors
In the previous description we didn't mention where the permanent magnets or the electromagnet are positioned. That's because the basics of how brushless and brushed motors are the same. What changes is just where the permanent magnets and electromagnet are placed.
With a brushed motor, the electromagnet is incorporated into the rotor. The rotor includes a part called the commutator. To send an electric current to the electromagnet, two wires end in contacts that are called "brushes" because they brush against the commutator, (Latin helps here as well; think of the commutator as the thing that communicates the electricity from the brushes to the electromagnet.)
The first time someone rigged all this up to make it work (Michael Faraday was the first person to use an electromagnet to make a rotor turn, back in 1822, yes, 1822) must have been positively mind-blowing.
The issue with brushed motors is that it's not possible to run wires directly to the electromagnet because it's spinning. That's why brushes are necessary; the brushes rub up against the commutator. Eventually, those brushes wear out. Also, brushed motors create sparks and sparks are a source of unpredictability and unpredictability isn't welcome inside of motors we rely upon. Also, the rotor tends to generate a fair amount of heat and having the hot thing in the middle of a bunch of other stuff makes it hard to cool.
The Brushless Motor difference: Inside out
A brushless motor takes this design and turns it inside out. The permanent magnets are mounted in the rotor and the electromagnet coils are incorporated into the stator—the housing. This eliminates the need for brushes, not to mention the commutator, which eliminates sparks and parts that wear out. Added bonus: With the electromagnet built into the stator, it is much easier to cool.
The advantages found in a brushless motor don't end there. Brushless motors produce much less noise than brushed motors. Brushless motors allow for more precise control through the electrical system that governs the motor's action. Brushless motors are reported to operate roughly 10 percent more efficiently. Brushless motors generally run between 85 and 90 percent efficiency, while brushed motors run between 75 and 80 percent efficiency.
One other dimension in which brushless motors are superior to brushed motors is relevant to e-bikes. Brushed motors produce maximum torque at low rpms because of the mechanical interface of the brushes and commutator. Brushless motors, on the other hand, can produce maximum torque at high rpms, which means that torque won't fall off as speed climbs.
If a motor's torque dropped as rpms (and ultimately, speed), an e-bike would slow every time it reached a hill, unless it was already going slow. That would not make for an awesome experience. It would also mean that an e-bike's ability to accelerate would drop as its speed increased.
Are there downsides of brushless motors on e-bikes?
Brushless motors aren't universally better than brushed motors. Brushless motors are more expensive to make than brushed motors. They can demagnetize the permanent magnets, and they can experience torque pulsations.
While these are real issues faced by makers of electric vehicles, they are nothingburgers for e-bikes. Why? Well, a small motor for an electric vehicle is on the order of 220kW, or 220,000W, while most e-bike motors range between 250 and 750W. The amount of power e-bike motors produce is small enough to make these issues negligible.
The bottom line: Brushless motors are fantastic for e-bikes

When we compare the advantages of brushless motors over brushed motors and the drawbacks that brushless motors present, their proliferation is a no-brainer. The sales pitch is pretty easy: Who wants an e-bike with a motor that is more efficient, longer-lasting, produces more torque at high rpms, oh, and is quieter, too? Had brushless motors not been invented, e-bikes might not be as much fun as they are.
Practically speaking, someone buying an e-bike doesn't need to worry about whether the e-bike they are considering is spec'd with a brushed or brushless motor. We can't promise that all e-bike motors are brushless, but we haven't encountered any that aren't. They are superior enough that the entire bike industry has endorsed this design.