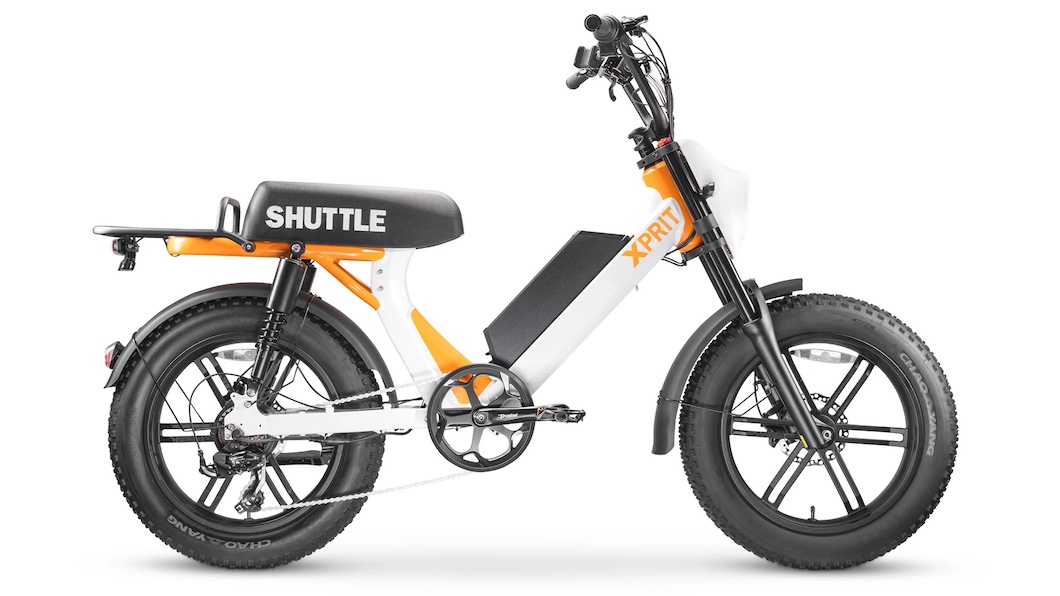 Intro
E-bike companies include throttles on e-bikes for a very simple reason: Riders like them. Iif consumers didn't want them, they wouldn't be there. And while some riders never use the throttle, there are certainly riders who would rather use the throttle than pedal. If a manufacturer wants to design an e-bike for riders who don't intend to pedal much, just what that e-bike can look like is an interesting question. Increasingly, we are seeing e-bikes that evoke mopeds, motorcycles or even scooters. In our Xprit Shuttle review, we will look at how this e-bike's design makes for great handling and terrific comfort, but puts the rider in a position that favors the throttle, not the pedals.
The Xprit Shuttle, with its motorcycle-looking front and rear suspension, its bench seat, high-rise bar and 4-in.-wide tires, front cowl and sizable headlight looks a lot more like a motorcycle than it does an e-bike. However, looks can be deceiving, right? The Xprit Shuttle is definitely an e-bike. It features a 750W Bafang hub motor, a 922Wh Samsung/LG battery, a 7-speed drivetrain, hydraulic disc brakes and a maximum-assist speed of 28 mph.
Xprit kitted the Shuttle out in some remarkably user-friendly ways. A for instance: Many e-bike makers say that the rider can charge their phone by connecting it to an output on the display. The Xprit Shuttle goes the extra mile of including a smartphone mount on the handlebar so that the rider isn't tethered to their e-bike by a cable.
Not everyone wants an e-bike to get exercise. Some people just want an easier and greener way to get around. The Xprit Shuttle offers a comfortable alternative, and one where throttling full-time doesn't severely limit this e-bike's range. Let's dig into what makes this e-bike different.
E-Bike Category: All-terrain
Who the Xprit Shuttle Electric Bike Is for:
This e-bike is great for people who want a comfortable ride on an e-bike with great handling and who don't plan to pedal all that much.
Xprit Shuttle Review Ratings:
***All ratings are relative to e-bikes of a similar style and price point***
| | |
| --- | --- |
| Speed/Acceleration | |
| Hill Climbing | |
| Battery Range | |
| Braking | |
| Construction Quality | |
| Handling | |
| Included Accessories | |
| Warranty | |
| Value | |
Xprit Shuttle E-Bike Specs
Battery: 48V/922Wh Samsung/LG
Expected Range:
Charger: 48V/2A
Motor: 750W brushless, geared Bafang hub motor
Pedal Assist: 5 PAS levels
Throttle: Thumb button
Display: LCD
Headlight: 300 Lumen
Taillight: Included
Frame: 6061 Aluminum
Fork: Air/oil suspension fork
Fenders: Included
Kickstand: Included
Handlebars: Alloy
Grips: Rubber, lock-on
Drivetrain: 7-speed Shimano Tourney, 14-28 freewheel
Brakes: Logan hydraulic disc brakes with 180mm rotors
Pedals: Wellgo alloy with reflectors
Saddle: EVA foam motorcycle-style bench
Tires: 20 x 4-in.
In-Depth Xprit Shuttle Review
Xprit Shuttle Review: Comfort, Handling, and Ride Qualities
Among the many styles of e-bike we've seen emerge are models that evoke the look and feel of mopeds and older motorcycles. With its double-triple-crown suspension fork and rear shock absorbers, the Xprit Shuttle is meant to take in unpaved roads and trails as well as paved roads, while giving the rider a silky experience. The 20 x 4-in. tires also cushion the rider from bumps, ruts and pavement seams, not to mention potholes.
The seated position on the Xprit Shuttle is very upright and comfortable for the upper body, especially for people who have a fussy neck or back. However, the motorcycle-style bench seat cannot be raised or lowered; it is fixed in place. What that means is that the taller the rider, the more cramped they will feel when trying to pedal the Shuttle. This is one e-bike where being shorter is a benefit.
With its bench-style saddle, riser bar and 20-in. wheels with 4-in.-wide tires, the ride of the Xprit Shuttle definitely feels like a motoped or motorcycle. We expect many riders will simply rely upon the thumb-button throttle to get around as there aren't a lot of riders who are likely to be comfortable pedaling the Shuttle.
The cast-aluminum wheels and big tires will give the Xprit Shuttle a stable and confident ride. One benefit of the low saddle height is how the rider's lower seat position reduces the e-bike's center of gravity, making the Shuttle feel more maneuverable while increasing rider confidence.
This is one of the heaviest e-bikes we have encountered, coming in at 99 lbs. The heft may remind some riders of a motorcycle as well. We were surprised to see that the Xprit Shuttle has a rider weight limit of just 264 lbs.; we expected something higher, given the frame design and suspension, as well as the cast-aluminum wheels.
Xprit Shuttle Review: Motor, Battery, and Drivetrain Performance
The Xprit Shuttle is equipped with a 750W brushless, geared Bafang hub motor which gives it impressive acceleration and the power to maintain a Class 3 top speed of 28 mph. The Shuttle offers throttle assistance to 20 mph, but like other Class 3 e-bikes, the rider must pedal in order to reach 28 mph.
The Samsung/LG battery packs a terrific charge of 922Wh. Despite the e-bike's weight, sizable tires and powerful motor, the Shuttle manages some very good range numbers. On throttle alone, Xprit estimates that riders will see 34 mi. of riding before needing to recharge and up to 54 mi. if the rider is pedaling.
The Xprit Shuttle is equipped with a cadence sensor that requires the rider to execute roughly one pedal stroke before the motor joins the party. The lag can be a bit bothersome, but e-bikes governed by torque sensors tend to be much more expensive.
A 7-speed Shimano drivetrain gives the Shuttle a fair range of gears thanks to a 14-28 freewheel.
Xprit Shuttle Review: Braking, Safety & Warranty
Even though the rider is almost always heavier than the e-bike they are riding, we do harbor a few reservations once an e-bike weighs more than 80 lbs. Heavy e-bikes raise two concerns. The first concern is that smaller riders can struggle a bit to control and maneuver a heavy e-bike when they aren't riding it. The second concern is whether the brakes spec'd on the e-bike are powerful enough to sufficiently control and stop the e-bike in question. With the Xprit Shuttle, stopping duties are handled by Logan hydraulic disc brakes. Logan isn't a widely known brand, but the fact that these are hydraulic disc brakes rather than mechanical disc brakes, mated to 180mm rotors should give any prospective buyer plenty of confidence.
We at Best Electric Bikes scrutinize e-bikes for weaknesses that we think may make for an unsatisfactory rider experience or may decrease a rider's control and, ultimately, safety. E-bikes like the Xprit Shuttle are unusual in that the feature that we find most problematic—the inability to raise or lower the saddle height for rider comfort while pedaling—makes this e-bike (and others like it) easier to handle. Easier, because a rider is more likely to be able to place their feet flat on the ground while seated, and as previously mentioned, the low seat height lowers the e-bike's center of gravity, making it better balanced. It's just not an efficient position for pedaling.
We're critical of e-bikes with fixed seats because they force many riders into a more cramped seated position than they would be on a more traditional e-bike. Consider the pedaling efficiency issue this way: Given a choice of picking a 25-lb. box up off the floor or up off a coffee table, most people would choose the box on a coffee table because it means they don't have to bend their knees as much, which requires more strength to stand back up. It's really that simple. It's easier to pedal when a rider's knees aren't in a deep bend.
In addition to a warranty, Xprit offers a return policy on the Shuttle. The warranty is a fairly unsurprising one year. The return policy is 60 days, which seems generous until the fine print: The clock begins ticking from when the order is received, not when the e-bike is delivered. In our current climate of supply chain interruptions and shipping delays, if a potential buyer ordered the Shuttle and they were out of stock, the clock could expire before they receive their order. That does not impress us. A shorter window that does not begin to elapse until the buyer receives the bike seems far more fair.
Xprit Shuttle Review: Recommendation/Final Verdict
It would be silly for us to suggest that everyone who buys an e-bike plans to use it for exercise and wants to pedal to get around. If that were the case throttles wouldn't be so common. With e-bikes like the Xprit Shuttle, we think most people who buy this e-bike plan to ride it much like the thing it is styled after: a moped.
With its high-rise handlebar, front and rear suspension, big headlight surrounded by an enclosure and long bench seat, it has the look and feel of something from a generation ago. Compared to mopeds and motorcycles, the Xprit Shuttle has a number of distinct advantages. In today's dollars, it's less expensive to purchase as well as less expensive to run; a full charge costs less than a burger. The suspension works better and it weighs about half as much as a moped. The DMV doesn't require a license for the rider or registration for the e-bike. As a way to give a teen some freedom, it makes more sense than buying a used car.
While we see the bench seat as not being conducive to efficient pedaling, that's not a problem for people who don't plan to pedal. Where the bench seat has an advantage, though, is that most anyone can sit down on the Xprit Shuttle and find a comfortable position by either sliding forward or backward on the seat. That means no need to adjust saddle height for different riders, making it very handy for families.
We like that Xprit included fenders, lights and a rear rack with the Shuttle. That increases the e-bike's versatility and utility.
Xprit estimates that riders who pedal may enjoy a range of as much as 54 mi., but as we've observed, there may not be many riders who pedal, so its throttle-only range is the more important number to bear in mind, and that is 34 mi., on average. For someone who is staying relatively close to home, that could be a week's-worth of riding.
Easy to use, versatile, easy to maintain and inexpensive to run, the Xprit Shuttle offers riders a great way to get around, even if they aren't interested in pedaling.
Thank you for reading through our review of the Xprit Shuttle. Still have further questions? Wondering how it compares to a similar e-bike we've reviewed? Let us know in the comments below!
Reader Interactions