Welcome to our spec review of the Xtracycle RFA electric bike! Xtracycle is well known for their highly customizable eBikes, but due to their popularity they can be difficult to get a hold of. As such, we haven't had the chance to develop our performance review of the RFA hybrid cargo electric bike, but we did manage to develop our spec review. We compared the Xtracycle RFA to other Xtracycle bikes we've had the chance to ride, while also noting the individual components that RFA shares with other popular eBikes. We hope that our spec review will give you a great general impression of what to expect when you ride Xtracycle RFA eBike!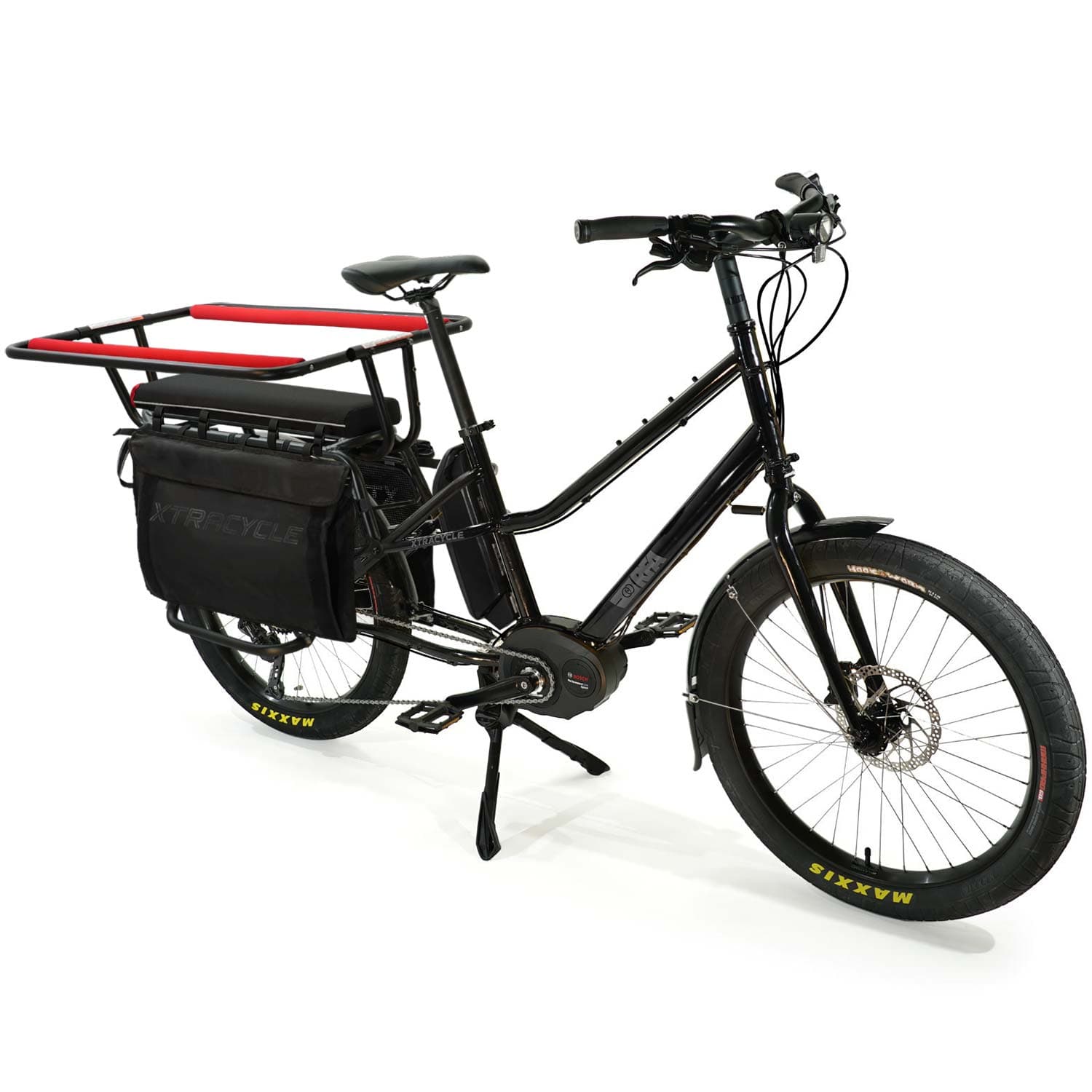 The Xtracycle RFA is one of the most customizable eBikes Best Electric Bikes has seen in our spec reviews, but whatever parts combination you go with you wind up with a stellar, premium cargo electric bike. The frame is made out of high quality 4130 Chromoly steel, providing greater durability than traditional aluminum eBikes while also being able to support over 400 lbs. You have three different batteries to choose from along with three unique motors, allowing you to either save money on your order or pick a bike that has 28 MPH motor assistance or can travel over 100 miles on a single charge! A 9-speed drivetrain with a Shimano derailleur provides consistent, reliable shifting, while the Shimano BR-MT400 Hydraulic Disc Brakes with 180 mm rotors provides you great stopping power that will ensure you come to a quick yet steady stop. The grips, saddle, and handlebars are all built with added comfort in mind, and you have a number of other great accessories like a headlight, tail light, and kickstand included as well. The Xtracycle RFA is a premium hybrid cargo eBike, so read on for our full review and learn more about how you can customize it and turn it into a truly personalized electric bike made for you!
Bike Category: Class 1 or 3: Pedal motor assistance to 20 MPH or 28 MPH.
Who It's For: Cyclists who want a sturdy, supportive cargo eBike with great performance and a wide range of customization options.
Bike Specs
FRAME: 4130 Chromoly Steel Frame
UI/REMOTE: Bosch Purion LCD
BATTERY: Bosch 400 Wh, 500Wh, or 1,000Wh
CHARGER: 2 Amp Charger or 4 Amp Charger
MOTOR: Bosch Performance, CX, or Speed
CHAIN: KMC X10E for eBikes
SHIFT LEVERS: Shimano Deore SL-T6000 Rapidfire Triggers on Right
CASSETTE: SunRace CSM2 Tay 9 Speed, 11-42 T
CHAINRINGS: 19 T / 20 T Chainring
DERAILLEUR: Shimano Deore RD-M6000
RIMS: Alex MD-40 36 Hole Double Walled Rims
TIRES: Maxxis Hookworm 24'' x 2.5''
SADDLE: Xtracycle Comfort Saddle
STEM: Promax, 60mm or 90mm or 120mm Length
HANDLEBARS: Xtracycle Comfort Handlebar
GRIPS: Ergon GP10-S-SD 30x130mm Grips
BRAKES: Shimano BR-MT400 Hydraulic Disc Brakes, 180 mm rotors
PEDALS: VP-535, Plastic Platform with Fixed Pins
KICKSTAND: Ursus 80 Jumbo Double Leg Kickstand
BELL: N/A
HEADLIGHT: Herrmans H-Black MR8 Integrated Headlight
TAIL LIGHT: Herrmans H-Track Integrated Rear Light
FENDERS: Optional Paid Aluminum Fenders Add On
Pros
Hybrid style eBike with a ton of great customization options or a truly personalized riding experience. Choose your size, color, motor, battery, and more before purchasing.
Three distinct frame sizes help riders short and tall find an excellent option well suited for their height and weight. Adjustable stem and handlebars are also great inclusions.
4130 Chromoly Steel Frame provides for fantastic durability and weight support. Total rider and cargo capacity recommendation is for 400 lbs on the base model.
2 Amp or 4 Amp charger, depending on the battery you go with. All batteries charge in less than 4 hours, even if your battery is completely empty.
Reliable drivetrain. SunRace CSM2 Tay 9 Speed, 11-42 T drivetrain with Shimano Deore shifting. Can be upgraded easily with fenders for even greater protection.
Bosch Performance, CX, or Speed motor options. Choose whether you want a class 1 or class 3 eBike. Speed is the fastest motor, but even the Performance motor is great.
Bosch Purion display. Small but easy to read, and providing a number of useful metrics without overwhelming your handlebars. Includes a walk mode and 4 pedal assist levels.
Maxxis Hookworm 24'' x 2.5'' tires. Premium design, and built for all-around usage. You can ride trails, city roads, any everything in between with these tires.
Shimano BR-MT400 Hydraulic Disc Brakes. 180 mm rotors provide more than enough stopping power for those riding in the city at high speeds. Long lasting too!
Powerful headlight and tail light also included. Choose the RFA Utility if you want extra cargo support, or RFA Sport if you prefer an even faster performance eBike.
Cons
Good reflective system, but many bike accidents happen from the side, where there is minimal reflection on the Xtracycle RFA. We suggest adding reflective taping to the tires.
The second battery pack adds over $1,000 dollars to the RFA eBike. You're not likely to go over 50 miles on a single ride, so it's hard to justify the 1,000 Wh battery combination.
Features
4130 Chromoly Steel Frame
4130 Chromoly is an alloy commonly used for cargo eBikes that require greater durability and weight support than your more traditional bicycle. A steel based frame, the Xtracycle RFA is able to support a total rider and cargo weight of 400 lbs, but it does weigh over 70 lbs fully assembled.
Bosch Powerpack 400 Wh, 500Wh, or 1,000Wh
Three different battery options, allowing you to customize your overall range or cut down and save money if you prefer. The stock Powerpack 400 battery will help you travel 40 miles on a single charge, while going with the Powerpack 1,000 dual battery system can help you travel up to 150 miles without recharging.
2 Amp Charger or 4 Amp Charger
The basic 2 amp charger is included with the Powerpack 400 Wh and 500 Wh batteries, while the 4 Amp Charger is included with the advanced Powerpack 1,000. Recharging from 0% to 100% with the included charger will typically take between 3 to 4 hours.
Bosch Performance, CX, or Speed
Three different motors which actually transform the Xtracycle RFA from a class 1 eBike to a class 3 eBike if you buy the Bosch Performance Speed motor. Even the base Bosch Performance Motor is great for those just riding in the city.
Bosch Purion LCD Display
Backlit LCD display, providing a number of important metrics despite its small 1.75'' screen size. You can choose between four pedal assist modes as well, optimizing either your range or motor assistance.
SunRace CSM2 Tay 9 Speed, 11-42 T Cassette with Optional Fenders
A 9-speed drivetrain gives you plenty of gearing options to choose from as you ride, with a reliable Shimano Deore derailleur making sure your chain stays on your cogs. Optional fenders further protect the wheels and drivetrain, minimizing the maintenance you need to perform in order to manage and take care of your eBike.
Maxxis Hookworm 24'' x 2.5''
High quality, premium tires that are tall and wide for dependable riding over paved asphalt and the occasional loose dirt or mountain trail alike. High volume and with a wide PSI range to further help you have a better riding experience in the city or for an off-road journey now and again.
Xtracycle Comfort Handlebar with Xtracycle Branded Comfort Saddle
Cargo bikes need to be comfortable so you can haul your cargo long distances without tiring out your arms or joints. The Xtracycle RFA does just that, with swept back 660mm length handlebars, ergonomic grips, and a large, Xtracycle official comfort saddle.
Shimano BR-MT400 Hydraulic Disc Brakes
180 mm rotor hydraulic disc brakes in the front and back of the Xtracycle RFA eBike. You have plenty of stopping power to come to a steady, smooth, and quick rest with the BR-MT400 brakes, with hydraulic disc brakes requiring less maintenance and overall offer greater durability than mechanical disc brakes.
VP-535, Plastic Platform with Fixed Pins
Solid, if basic plastic platform pedals included with the Xtracycle RFA electric bike. Easy to replace, so we'd recommend just swapping them out for some aluminum platform pedals instead.
In-Depth Review
Frame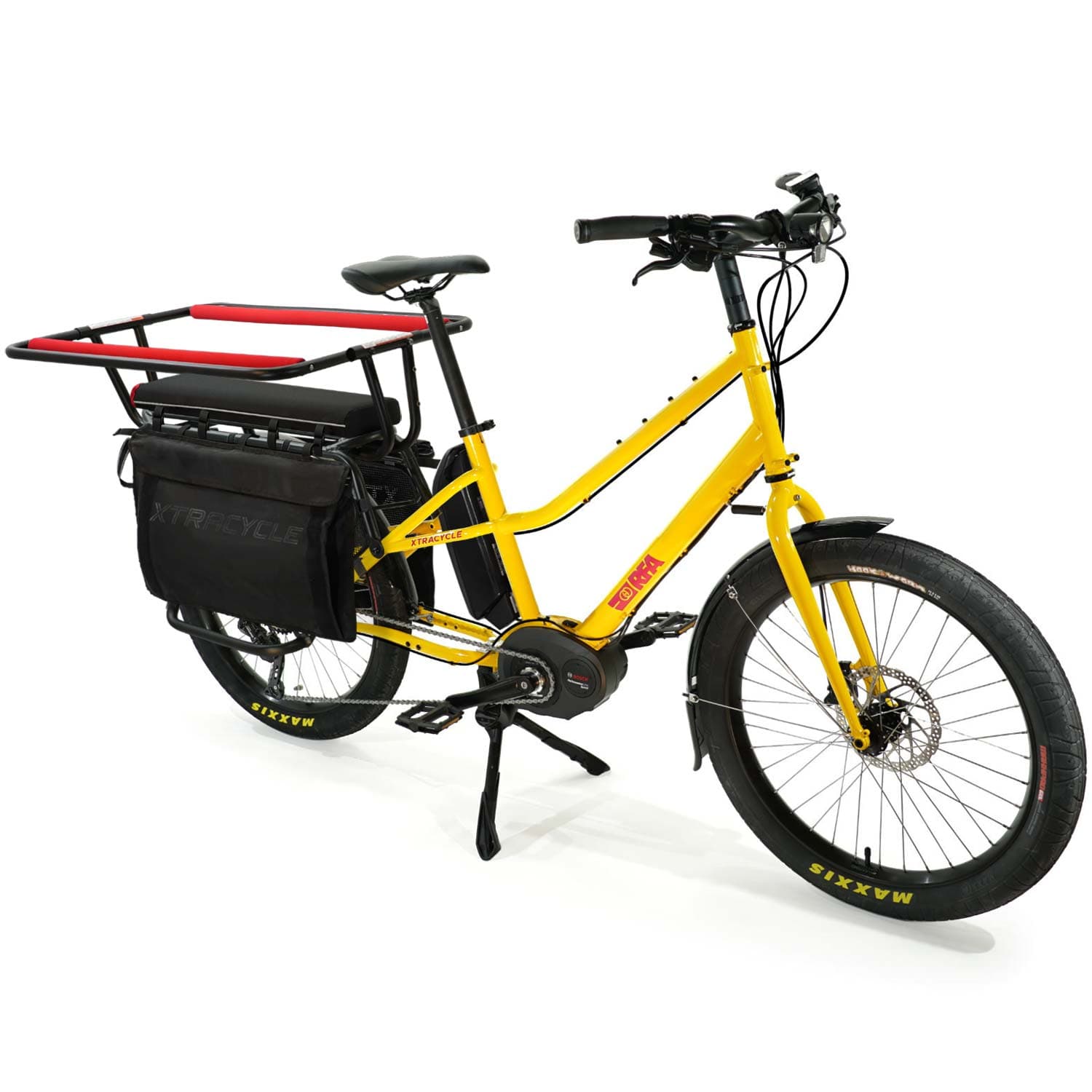 When it comes to eBike frames, the vast majority of them are made out of an aluminum alloy base, which is durable, lightweight, and affordable. However, sometimes you want something extra sturdy, able to support more weight and providing better protection in a crash. Those are just a few of the added benefits that come from using a 4130 Chromoly steel base for a frame, the central material for the Xtracycle RFA electric bike. Whether you get the Sport or extra large Utility cargo model, you will have a base recommended rider and cargo weight capacity of 400 lbs! The added weight support and steel construction does result in a heavier eBike, but at an average weight of 70.4 lbs it's actually lighter than several other cargo oriented eBikes we've reviewed. While you'll want to be aware of the weight, this is ultimately an easier to handle cargo bike compared to other models we've reviewed.
With the Xtracycle RFA, you have three colors to choose from, consisting of a teal Vista, black Midnight, and yellow Sunrise design. You also have three sizes, which are recommended for the following heights:
Xtracycle RFA Recommended Size Chart:
RFA Small/S: 5' to 5'5''
RFA Medium/M: 5'6'' to 5'11''
RFA Large/L: 6' to 6'4''
The saddle, seatpost, and handlebars are adjustable as well, so you can have even more height customization options that are personalized for your riding experience.
Motor & Battery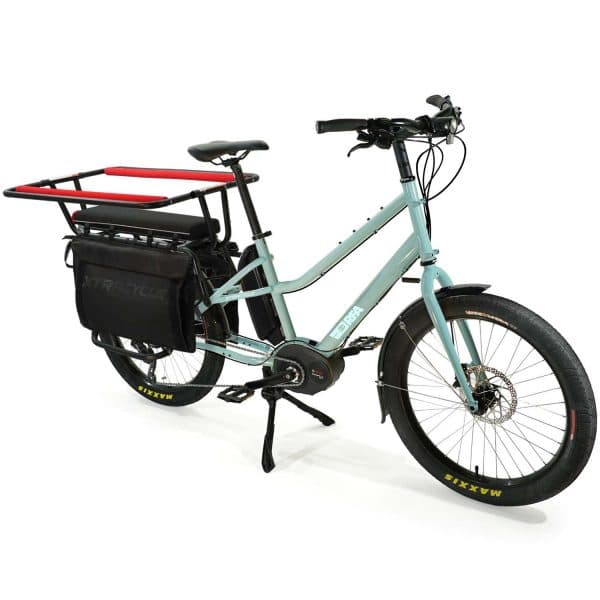 As you can choose between several motor and battery options, the RFA electric bike is available as both a class 1 20 MPH motor limit and class 3 28 MPH motor limit electric bike.
To start with the motor, you can choose between the Bosch Performance, CX, or Speed motors. The Performance motor is the least expensive, but still has an impressive 65 Nm of torque behind it that is more than enough for your typical city rider. The Bosch CX motor is designed with cargo carrying in mind, having a more powerful 75 Nm of torque behind it while still remaining a class 1 eBike. If you want to go even faster, then the Bosch Speed motor transforms the eBike into a class 3 eBike, allowing you to travel up to 28 MPH before your motor cuts off. We think it's fantastic that Xtracycle allows you to pick your motor, saving you time and money you might otherwise have to spend upgrading it on your own or at a bike shop after your purchase.
Similarly, you also have two battery options to choose from with the Xtracycle RFA electric bike. Your options consist of a Bosch 400 Wh, 500 Wh, or 1,000 Wh Powerpack battery setup. All batteries are fully removable, and come with either a 2 amp charger or 4 amp charger so you can go from 0% to 100% battery life in just 3 to 4 hours. For our part, we think that picking the 500 Wh battery is the best option, since it gives you about 50 to 60 miles of range in a single ride. With the dual battery setup, you have the potential to travel anywhere between 100 to 150 miles without recharging depending on your motor, pedal assist level, and road conditions. However, you're also paying over $1,000 dollars more for the second battery, and most of the cyclists we know very rarely travel more than 50 miles on a single trip without taking a rest. Still, if you want one of the farthest traveling eBikes on the market, you'll have it if you pick the Xtracycle RFA with the Bosch Powerpack 1,000 Wh setup.
Display/Assist Modes
Whichever motor and battery you select, you'll have dynamic control over their performance thanks to the Bosch Purion display included with the Xtracycle RFA electric bike. Mounted on the left handlebar next to the grip, the Purion is a 1.75'' display with a backlit LCD display, so you can monitor your riding metrics during the day or while you're riding at night. Despite how small it is, the Bosch Purion display offers a surprising number of metrics and control options, including the following:
Bosch Purion Display Readouts/Metrics:
Current Speed
Assist Level (Four Modes + Walk Mode)
Battery Level (Five levels)
Odometer
Total Distance
Trip Distance
Estimated Range
Light Settings
Whether you go with the Class 1 or Class 3 option, the actual motor pedal assist levels will be the same. The Bosch Purion display has four pedal assist modes that you can set your motor to, which are as follows:
Xtracycle RFA Pedal Power Assistance:
Eco (40%)
Tour (100%)
Sport (180%)
Turbo (270%)
Picking a lower pedal power assistance mode will extend your range, but you'll receive less power as you pedal and take longer to reach the 20 MPH or 28 MPH motor speed cap. If you need the extra power, you can set the motor for a higher pedal assist mode for a stronger push and greater acceleration, though due to the greater power drain your overall range will be smaller. Take the time to familiarize yourself with each pedal power assistance level, since switching modes on the fly is how you'll become a master at riding electric bikes.
Handling
On Streets- The Xtracycle RFA is a hybrid eBike, so it's meant to be a smooth, comfortable, easy to handle eBike whether you're riding on light trails or in city streets. The 24'' tall tires are a balanced size, providing good weight support and speed while still being very easy to handle. You also have wide 2.5'' tires, and while it does take away from the turning this eBike is definitely able to support over 400 lbs because of it.
Turn Radius- Turning isn't too difficult with the Xtracycle RFA, but your overall turn radius is going to be determined in part by whether you pick the Sport or Utility model. The Sport has the tighter turning radius of the two, and is better able to navigate tight alleyways or narrow passageways if you need to bring your eBike with you indoors. The RFA Utility does extend the tail, and while it can still make some tight turns it is slower at maneuvering overall. Go with the Sport if you care more about pure performance, and the Utility if you prefer something with greater cargo support.
Low Speed Handling- The Xtracycle RFA is a heavier eBike, but it has two options to help you with your handling at lower speeds. If you've already dismounted off the eBike, set the motor to walk mode to get a small boost that will make walking the EFA hybrid eBike easier. If you're still riding it, setting the Xtracycle RFA to eco mode is also a good way to get a small push from the motor without overwhelming you when you just need low speed handling. Of the two frame styles, the RFA Sport will be easier to handle at low speeds compared to the RFA Utility.
Gears/DriveTrain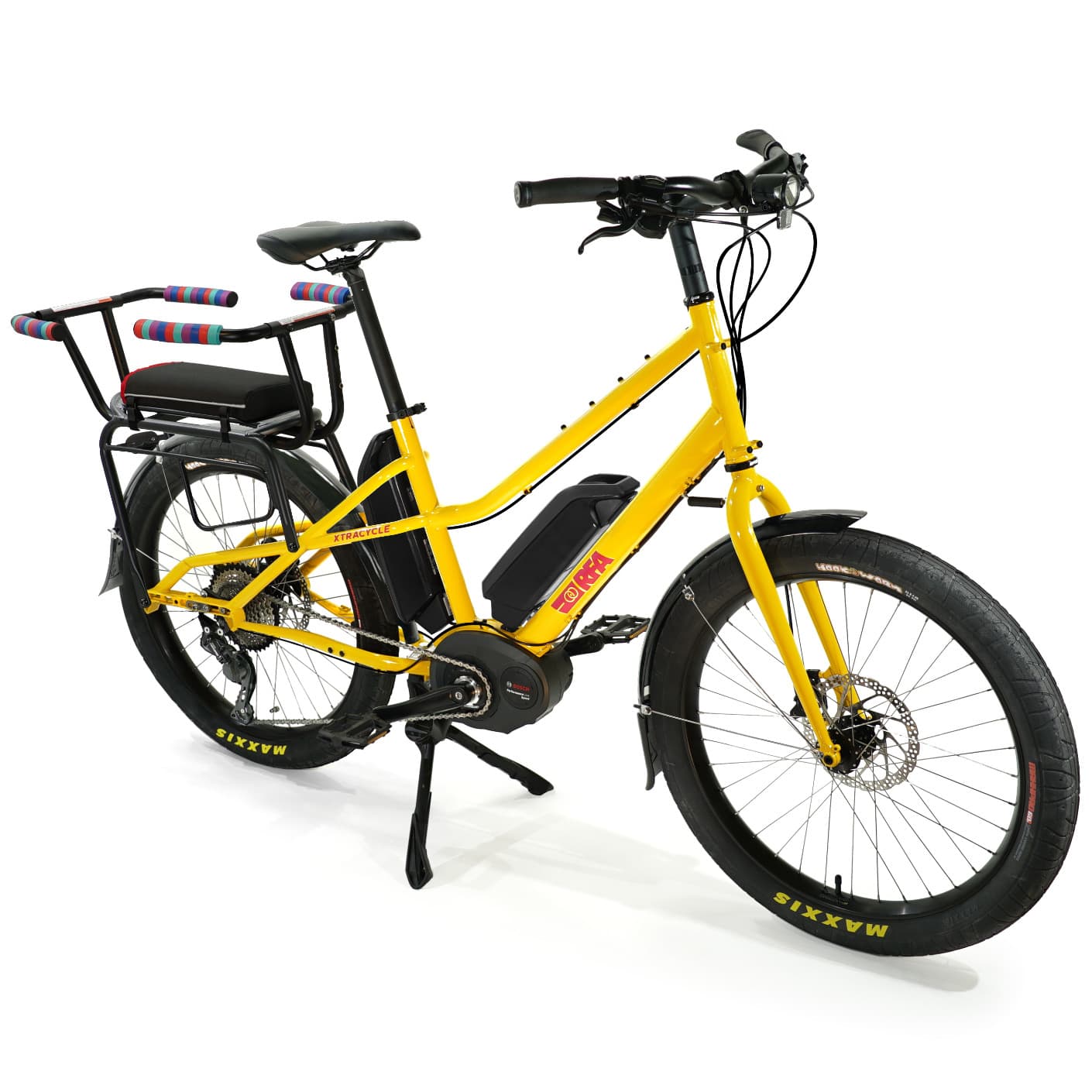 The drivetrain for the Xtracycle RFA does vary depending on your motor, featuring a SunRace CSM2 Tay 9-speed, 11-42 T cassette that connects to the 19T chainring for the Performance and CX motors, or a 20 T chainring for the Speed motor. The chain itself is a KMC X10E, optimized for long term use able to withstand the additional strain caused by the mid-drive motor. Shifting is done with the Shimano Deore rapidfire trigger, with the Shimano Deore RD-M6000 derailleur in the rear complimenting the shifter. A 9-speed eBike provides plenty of shifting options for city riding, and with the Shimano derailleur you'll very rarely have to reset your chain, even when you do shift while riding at high speeds. An optional add-on that you can add to further protect your drivetrain is the Xtracycle fender system. While it does cost $100 dollars, fenders keep your tires and drivetrain clear of mud, rocks, and other debris, greatly reducing how much you'll be spending maintaining and replacing parts over the long run of your bicycle's life.
Brakes
When you're traveling over 30 MPH on a eBike, you need a reliable braking system in an emergency situation where you need to come to a rapid but safe stop. That is why we appreciate the inclusion of Shimano BR-MT400 Hydraulic Disc Brakes, with 180 mm rotors in both the front and back of the eBike. Hydraulic disc brakes last longer and are less likely to break from a crash than mechanical disc rotors, and with 180 mm rotors you have enough stopping power to come to a quick but smooth rest even when traveling downhill at high speeds. Because this is an eBike, Xtracycle also made sure that the RFA brakes and motor system were interconnected with each other, with the RFA brakes immediately cutting power to the motor when you pull on the levers. By having an interconnected system, your motor and brakes won't compete against each other, helping you come to a stop quicker while also extending the overall life of both your brakes and mid-drive motor.
Suspension
One area where you might need to make some of your own adjustments or upgrades after delivery is suspension. There are no true suspension components in any version of the Xtracycle RFA electric bike, though due to its larger size and weight it does handle unsmooth terrain better than your traditional bicycle. If you just have the occasional gravel or cobblestone path you need to ride over in the city, the stock RFA bike should be fine, or you can swap out the stem and saddle for a suspension equivalent if you want a small upgrade. The hybrid cargo eBike isn't really meant for more serious hill or trail climbing, so we would advise against adding any more significant suspension parts and just looking at a more mountain bike oriented option instead.
Pedals
The only other part where you will likely need to make an upgrade is the Xtracycle RFA's pedals. The pedals that come with the eBike are VP-535, plastic platform pedals with fixed pins. The plastic pedals are solid enough and are more than able to support your typical adult rider, and they provide okay traction when you go out with riding or athletic shoes. Aluminum platform pedals are our preferred option though, because they provide greater traction support along with superior durability if you suffer a crash. The pedals are easy to swap out, so for the best riding experience find some good aluminum platform pedals to replace the plastic pedals the RFA comes with.
Grips and Saddle
While we might not like the pedals that much, we do think that the grips, handlebar, and saddle setup is worth highlighting. The grips, handlebars, and saddle are all Xtracycle branded equipment, and designed to better fit the overall look of the RFA bicycle compared to many other eBikes where there is a mismatch of parts. The grips are Ergon GP10-S-SD and measure 30x130mm, with an ergonomic design so that you can ride for hours without tiring out or developing blisters in your hands. The saddle is both large and comfortable, and as long as you meet the height requirement adults of almost any size should find a snug and cozy sitting position on the Xtracycle RFA electric bike. As for the handlebars, they are swept back for more casual cycling, with a 660 mm length that will accommodate taller riders with longer arms who have felt cramped on other, thinner eBikes.
Wheels and Tires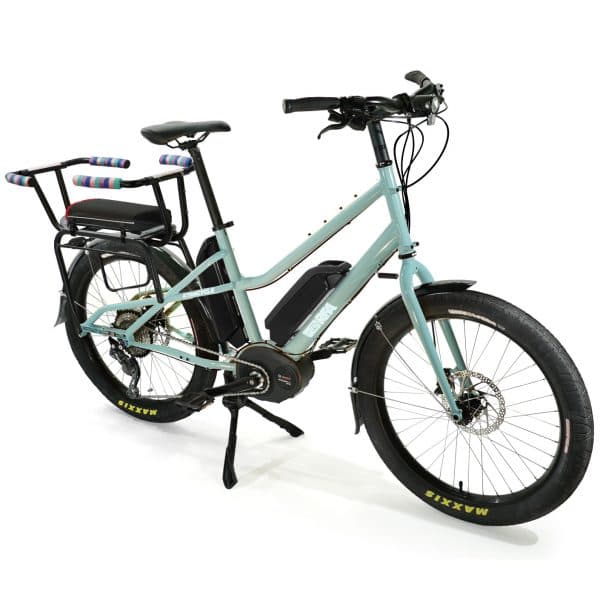 The last major component we want to highlight, the Xtracycle RFA comes with Maxxis Hookworm, 24″ x 2.5″ (61-507) tires, mounted on Alex MD-40 36 Hole double walled rims with stainless steel 14 gauge spokes. You have a wide range you can set your tires too, but the general recommendation for day to day riding with cargo is 65 PSI. At this number, you'll be able to travel over asphalt, cobblestone, gravel, loose dirt, and similar terrain in and out of the city with balanced performance that will minimize the differences in riding feel as you transition from one road to another. Overall, these are great tires in terms of performance, but we would recommend throwing on some reflective tape to make it easier to spot you while you're riding, especially at night.
Accessories/Upgrades
The Xtracycle RFA is a highly customizable eBike on its ordering page, and whichever model or combination you go with you have most of the traditional accessories we would recommend. A headlight and tail light, a rear cargo rack, and a kickstand are all included with the Xtracycle RFA electric bike. Additional reflective lighting, a bell, and aluminum pedals are the top recommendations we have for the Xtracycle RFA electric bike. Otherwise, visit Xtracycle and check out the cargo bike racks, bags, and attachment points to help you carry more cargo if you aren't satisfied by the rear cargo rack alone.
Recommendation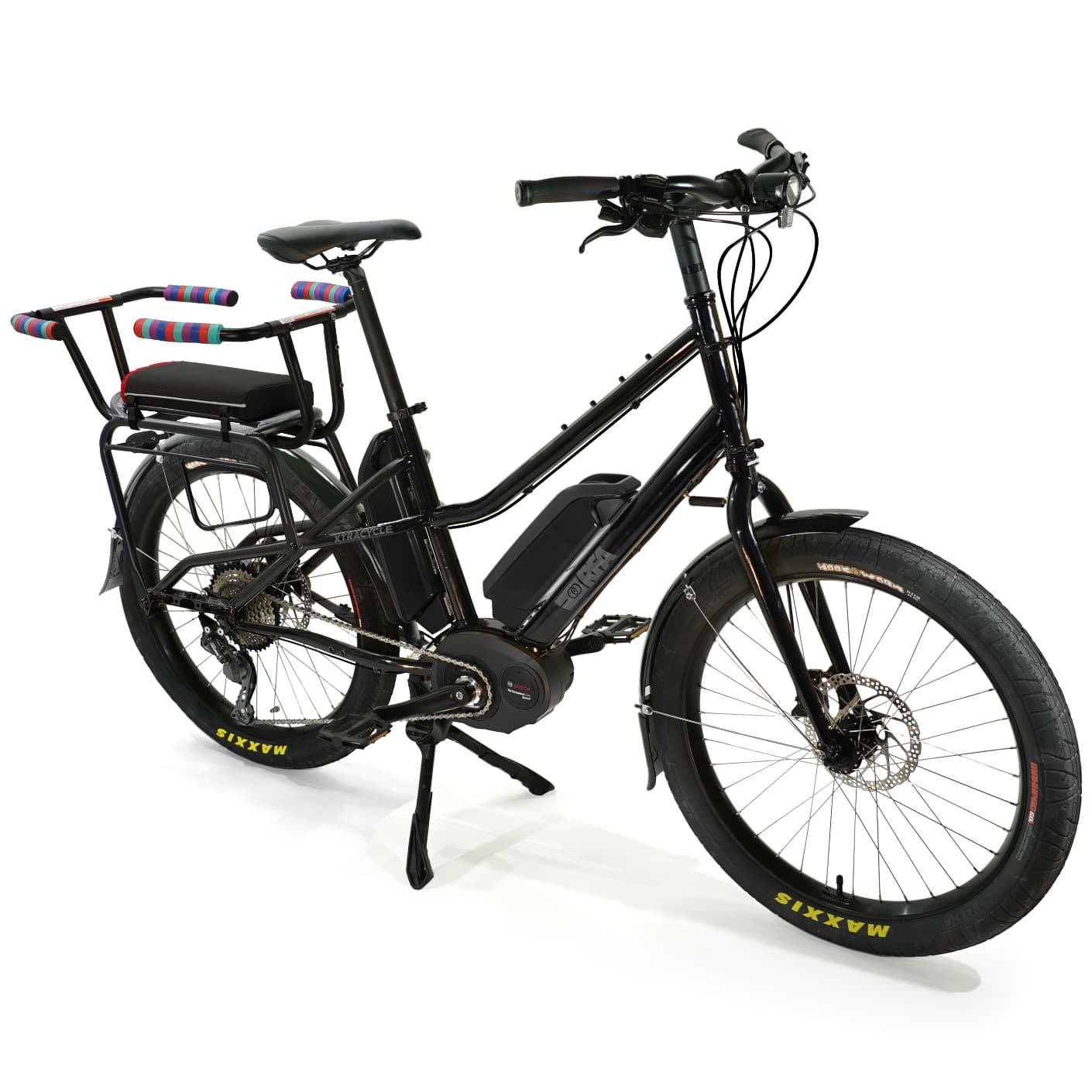 Once you have an eBike, there is nothing stopping you from customizing it, but with the Xtracycle RFA you will really have the ability to build a bike custom made for you before it even reaches your door. You have three different sizes and color options to choose from, ensuring that shorter and taller cyclists will start with a frame built with their height in mind without compromising on its look. The 4130 Chromoly steel frame is sturdier than your typical aluminum eBike, and is able to support over 400 lbs even when selecting the small base model. The customization doesn't stop there, since you also can choose between a balanced, power focused, or speed focused Bosch mid-drive motor, with three different battery sizes ranging from 400 Wh, 500 Wh, and even 1,000 Wh. The SunRace CSM2 Tay, 11-42 T Cassette drivetrain makes the Xtracycle a 9-speed eBike, with rapid gear shifting thanks to the Shimano Deore rapidfire triggers on the right handlebar. The left handlebar supports the responsive yet compact Bosch purion display, flanking the ergonomic grips that sit on the swept back adjustable handlebars. There are a ton of great features, and they are complimented with high quality accessories like the headlight, tail light, and kickstand. If you've been looking for a premium cargo bike that you can ride in and out of the city, start customizing an Xtracycle RFA today!
Thank you for reading our spec review of the Xtracycle RFA electric bike! If you would like to see a full performance review or video review, be sure to let us know by leaving a comment below!