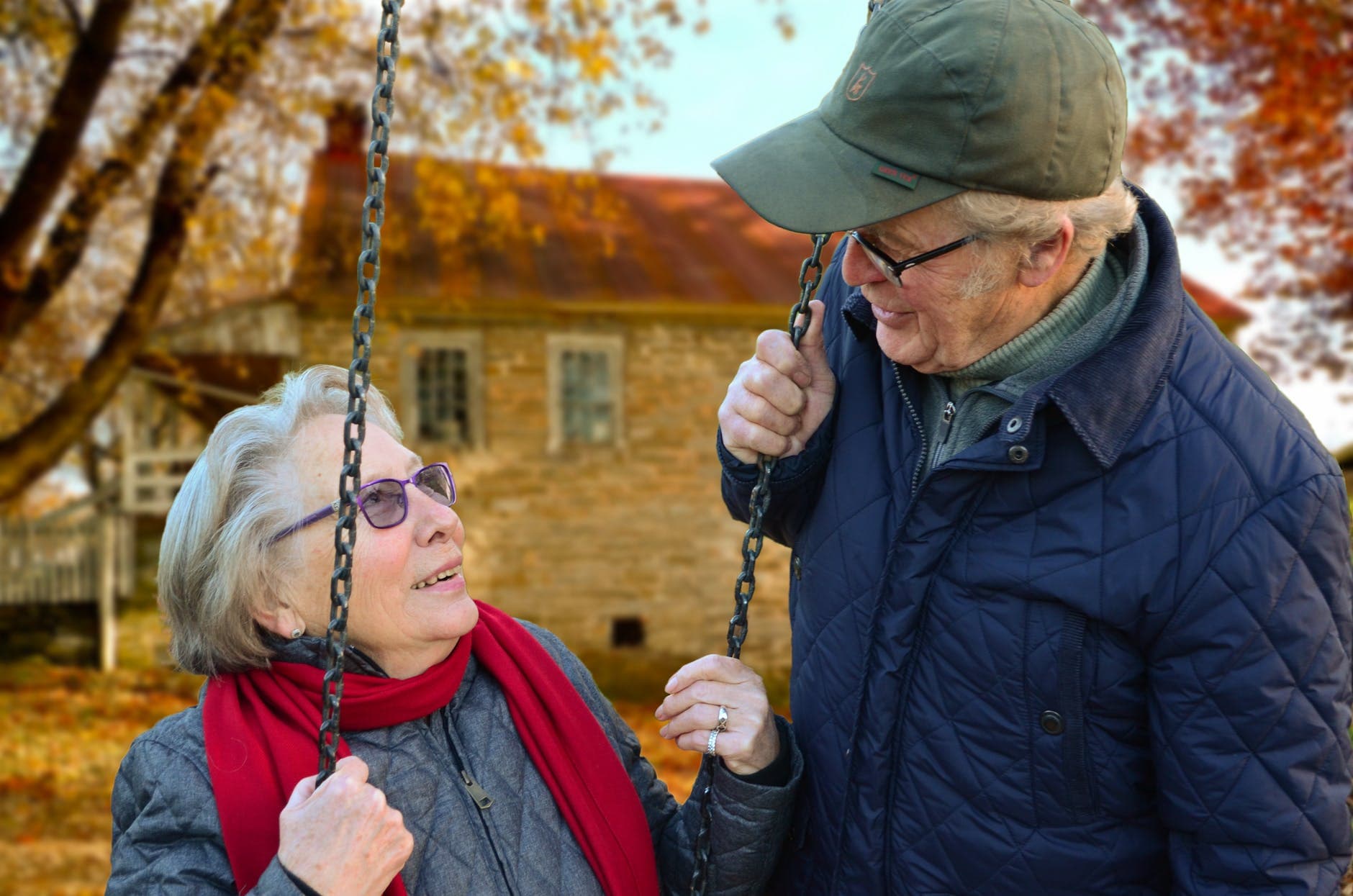 Just because you're past retirement age doesn't mean you can't enjoy the thrill of e-biking. If you're a fan of traditional biking, then you'll love what an electric bike can offer. And unlike traditional bikes, you'll have the peace of mind that you can tackle any hill, commute, or trail ride because you'll have assistance if you need it.
Today's e-bike choices are almost endless. There are low-cost entry-level bikes and sophisticated bikes that cost many thousands of dollars but offer a premium experience. We know that you have different priorities than a teen or young adult. So let's dig in and see what the best e-bikes are for seniors.
Finding The Best E-bike For Seniors: Stability, comfort, and safety
It's a fact that as we age, we lose some stability. We aren't as agile as we once were, and our reaction time is off a beat or two. This shouldn't discourage senior riders from getting out and enjoying cycling as they have in the past. Perhaps e-bike riding will be a new activity for some, all the more reason to jump in and find the best e-ike.
As an older rider, the last thing you want to consider is how comfortable, safe, or stable the ride will be. That'll take away from the fun. Today's e-bikes are outfitted with so much top-of-the-line technology; riders can feel confident regardless of their age. Whether riding through the neighborhood or hitting the trail, age won't come into play as seniors realize the good old days haven't passed them by.
Finding The Best E-bike For Seniors: Quality components
A first-class road or mountain bike is a thing of beauty. But today's e-bikes took it to the next level with heaps of convenience, safety, and technology wrapped up in a two (or three) wheeled masterpiece.
Most e-bikes come standard with a drive system that includes the battery, motor, and controller interface, which assists as you pedal. The quality of those parts alone makes all the difference. We here at Best Electric Bikes put a premium on these parts, and our e-bike reviews give users an idea of what to expect from any model.
While the quality of the frame, brakes, and wheels is critical with standard and e-bikes, respectively, understanding the quality of the electronic components of an e-bike is vital.
Finding The Best E-bike For Seniors: Motor power and battery range
When someone spots an e-bike and owner, invariably, the first question asked is how fast does it go? People like to know how powerful the motor is and how far it can take you when fully charged. You, too, might wonder the same things as you look for the best e-bike for yourself or for a senior you know.
A senior isn't likely to be out tearing it up on the most rugged trails, although some might surprise you. While the motors are small and, in many cases, hard to spot, they do a masterful job of offering the assistance necessary to help the rider along. It's almost a tailwind type feel when the assist is assisting.
How big a motor you'll need depends on how the bike will be ridden and by whom. The minimum sized motor for riders weighing 200 lbs or fewer would be 250 W. Riders weighing more should look into a motor with at least 350 W minimum. As for the battery, the average e-bike batteries range from 300 W to about 800 W. The higher the wattage, the longer the ride.
Finding The Best E-bike For Seniors: Customer service
We've all had awful customer service experiences. It's one thing if you have a complaint about macaroni and cheese at the supermarket–but it's a whole different story when you can't get help with an e-bike that you've sunk thousands of dollars into.
On top of ensuring the manufacturer has a solid reputation, you need to ensure that all the components are better than average and that the craftsmanship is excellent. Usually, manufacturers with good reputations and excellent bikes also have excellent customer service.
If you have any questions about finding the best e-bike for seniors or older riders, don't hesitate to reach out or read our reviews.
Finding The Best E-bike For Seniors: What extras will you need?
Every eBike comes outfitted differently, so focusing on the things the senior in your life needs help narrow the choices and save a few bucks by not adding items later on.
Will a senior user need lights, saddlebags, bike rack, bottle holder, or trailer? Some eBike's are outfitted with these accessories already. Others you'll have to order or pick up down the line. Here are some items you will want to look for on a bike or consider adding for safety and comfort:
Reflectors
Lock
Helmet
Cycling gloves
Rearview mirror for bike and/or helmet
Phone Holder
Water Bottle
First aid kit
Bike/tire repair kit
Extra bike battery
Basket
Suspension seat post
Comfortable wide saddle
Finding The Best E-bike For Seniors: A few e-bikes to consider
Ride1up Series 500 ST

*For current pricing on the Ride1UP 500 Series click here*
The Ride1Up 500 Series is an excellent choice for those shopping for an entry-level e-bike on a budget. And it's even more of a standout once you consider the fantastic value offered by all its excellent features.
This commuter bike is for seniors who stick to well-paved roads or light trails. This isn't for those who want to go too far off-road or tackle steep hills. It has a removable battery to allow you to charge it up before you head home. It comes with a cushy saddle, headlights, taillights, and a kickstand. Read our full review for more information.
Aventon Aventure ST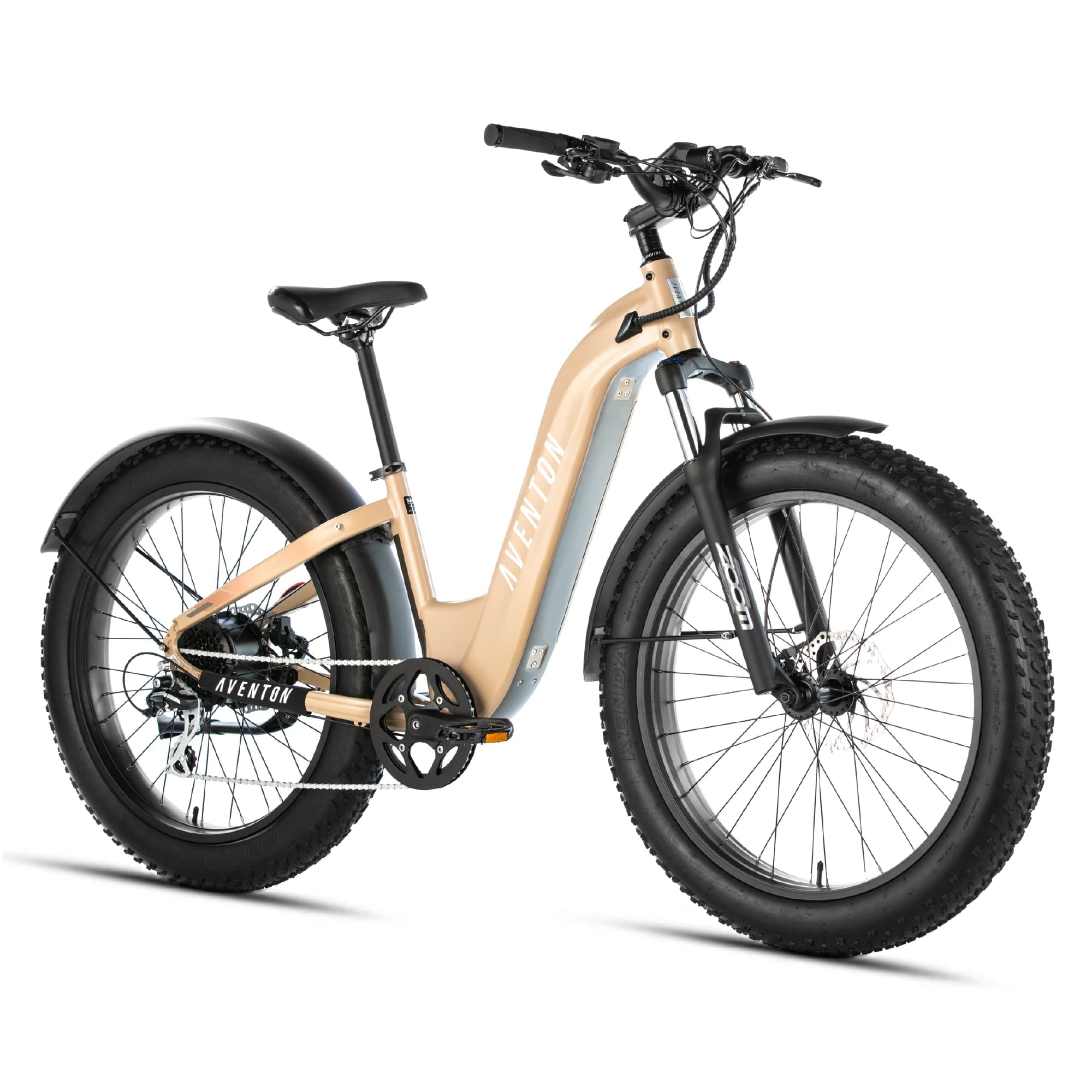 *For current pricing on the Aventon Aventure click here*
Adventuring is easy when riding an Aventon Aventure! This is one loaded bike, and any senior wanting to ride for miles should jump at getting one. The 4" fat tires coupled with the front suspension fork bring a comfortable and easy handling ride. The built-in fenders will keep you clean wherever you ride, and the lights integrated into the front and rear offer a level of on-road safety.
Whether you're new to e-biking or a seasoned rider, you'll love the Aventure's 25 mph top speed and 45-mile range. Classified as a class II e-bike, the Aventure can easily be configured as a class III. A beefy 750 W motor and a slew of features make this an attractive buy for a senior looking to get out and around in style.
Lectric XP 2.0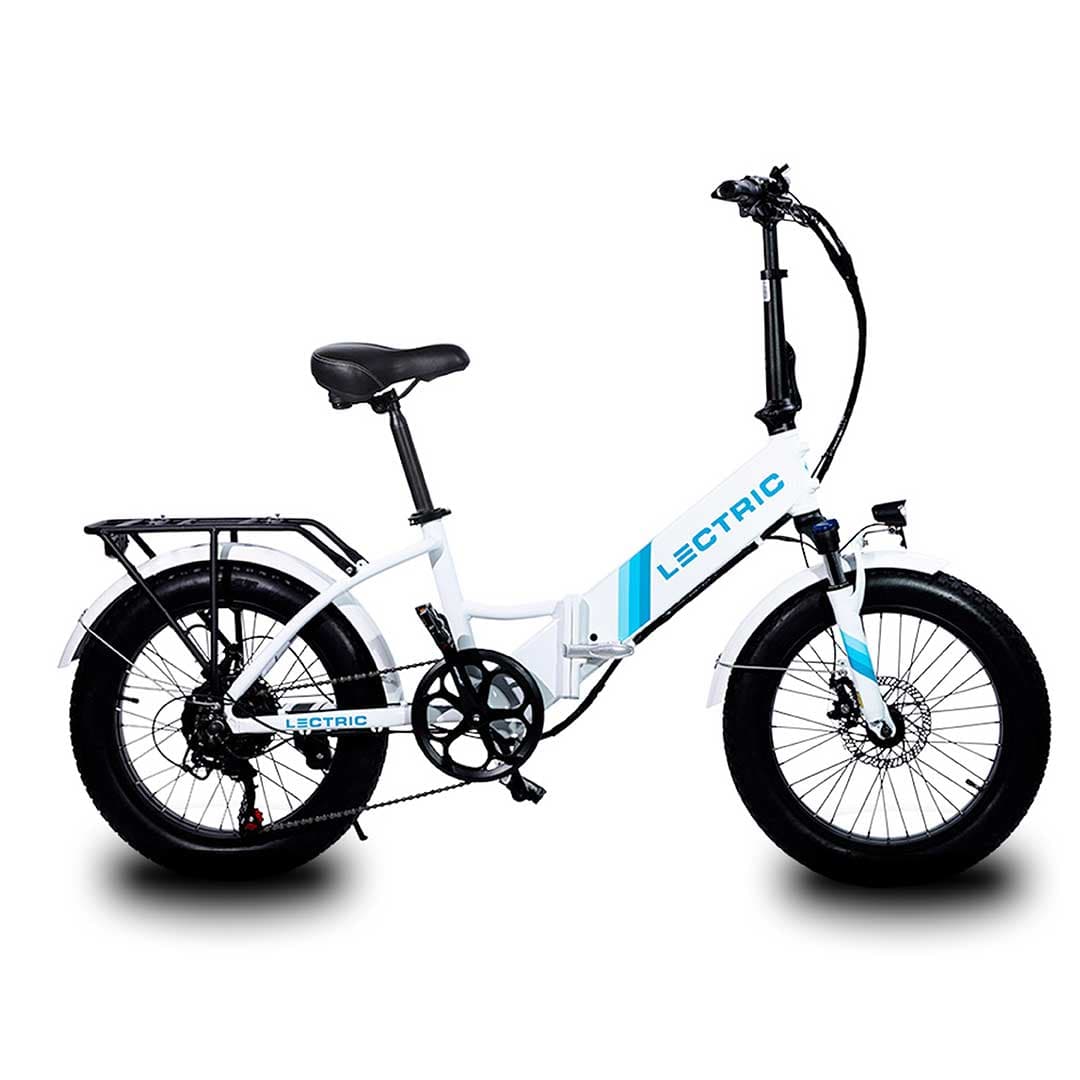 *For current pricing on the Lectric XP 2.0 click here*
Lectric's flagship e-bike, the XP 2.0, is a fully loaded, large motorized bike with award-winning features. Few other e-bikes compare to the XP 2.0. Any senior looking for an e-bike needs to take a real hard look at this bike if they enjoy speed in a portable e-bike.
Armed with variable pedal assist AND throttle, the XP 2.0 brings everything you need as a rider and can fit in as either a Class 1, 2, or 3 e-bike. The fat tires and adjustable front fork make for a smooth ride no matter where you go. Sit back, relax and enjoy the powerful 850 W motor as it takes you effortlessly throughout the great outdoors.
Rad Power Bikes RadRunner Plus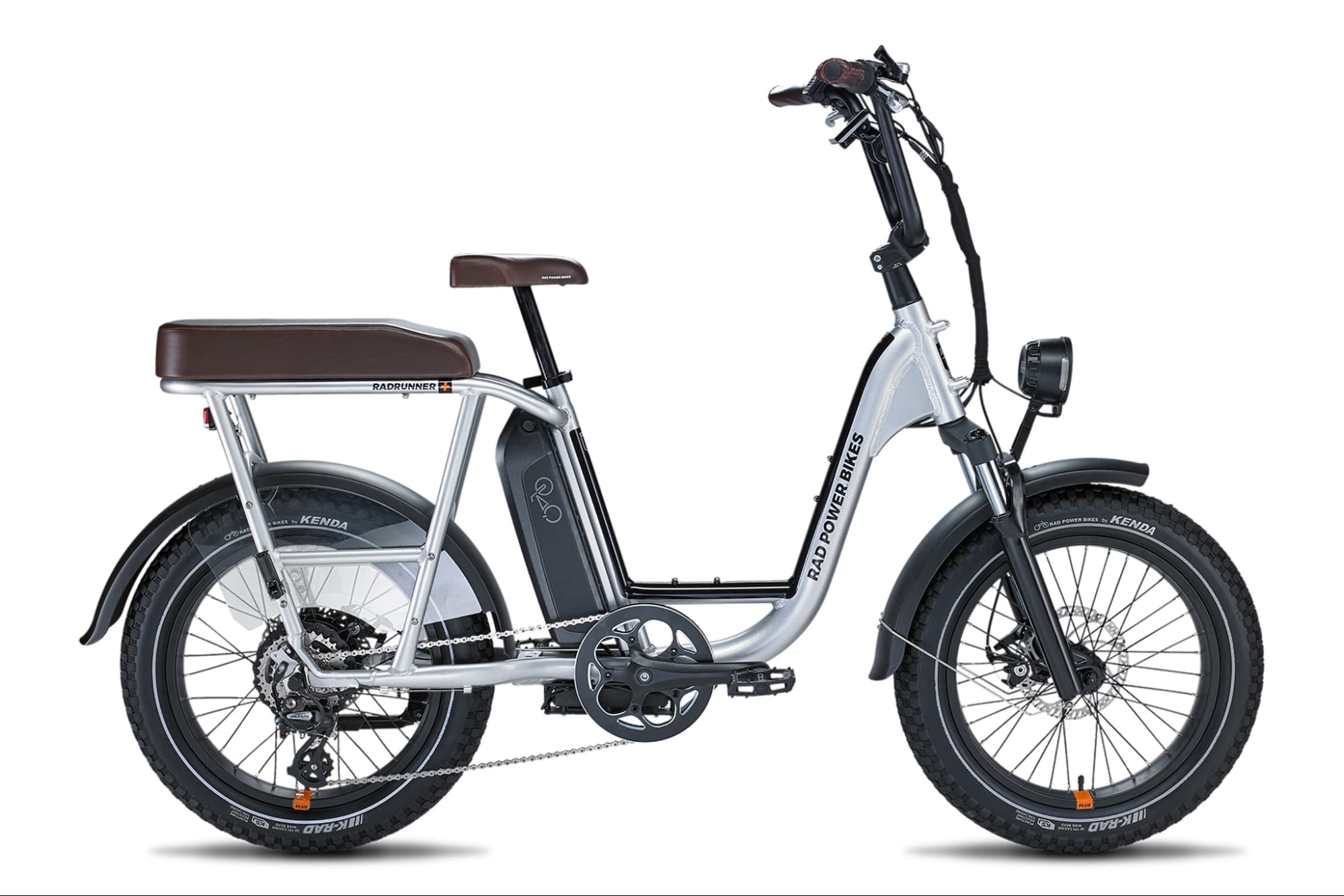 *For current pricing on the Rad Power Bikes RadRunner Plus click here*
The RadRunner Plus is a true hybrid utility e-bike that many riders can enjoy. It's a heavy bike at 74.4 lbs, but that brings with it performance and support. So much so that two adults can climb aboard and enjoy a ride together.
A 50-mile range on a full battery is fantastic, and the 80 Nm of torque can handle just about any terrain. Rad Power doesn't cut corners with comfort, either. The moped-style seat will make those long rides as comfy as possible, as will the faux-leather grips and the spring coil suspension support.
Few eBikes seem truly complete out of the box. Still, the RadRunner Plus does so with a vast assortment of essential accessories like fenders, a headlight, a taillight, aluminum pedals, a kickstand, plus more! This is a premium feel on an e-bike with an entry-level price tag. Great for seniors who are looking to get out and get moving.
Pedego Boomerang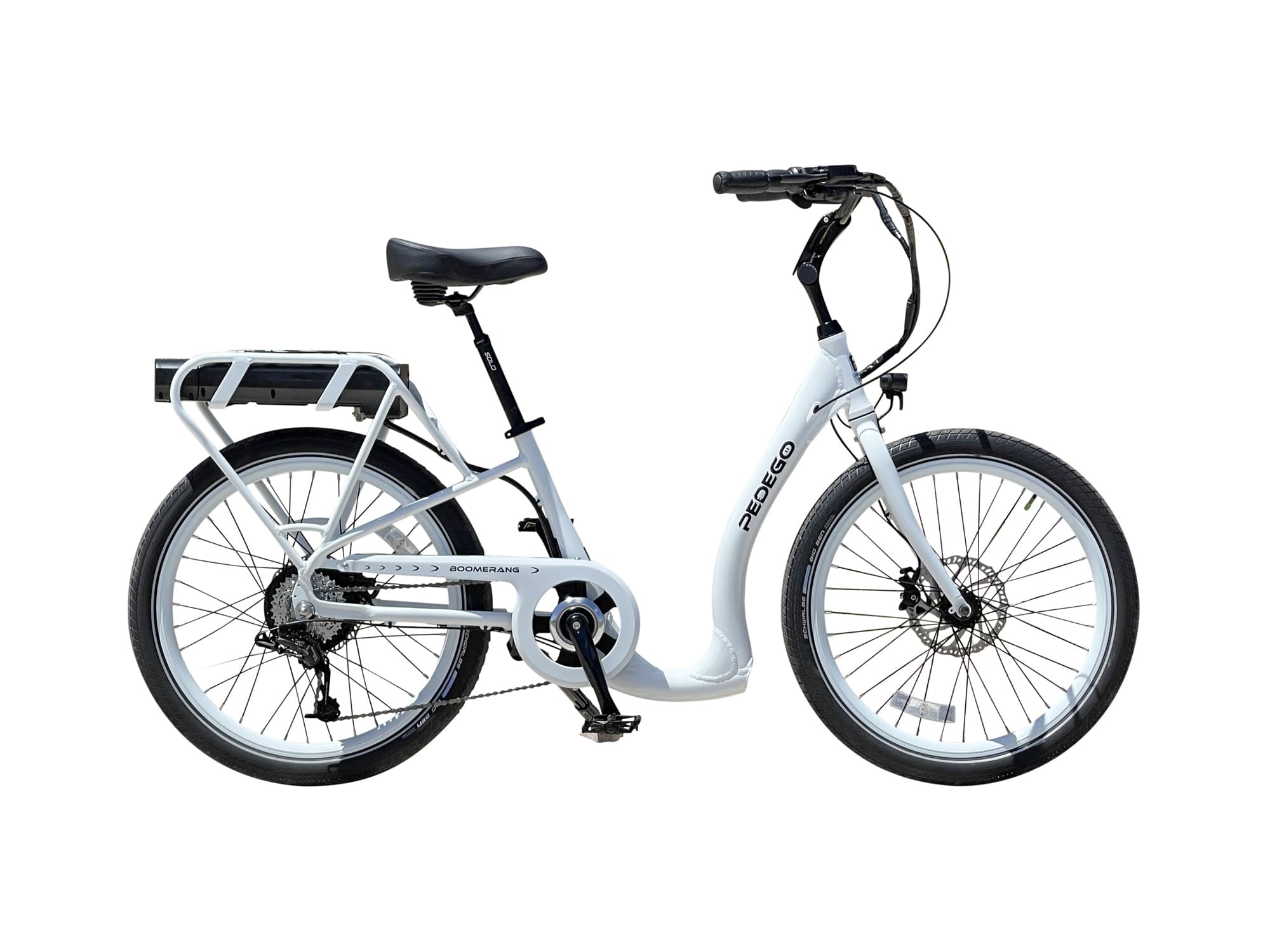 Pedego is one of the biggest names in e-bikes, and the commuter Boomerang is one of the best electric bikes for seniors. The ultra-low 9" step-thru frame makes getting on and off the bike easy and riding fun. You have the choice of a 24" or 26" frame.
The nice wide seat and large Kevlar-belted tires prevent flats and give you a steady, smooth ride. The built-in front and rear lights let you ride in the evening, and the full-coverage chain guard means you'll stay nice and clean when you arrive at your destination.
This e-bike has a whisper-quiet yet powerful 500W motor that will have you climbing hills like a dynamo.
Evelo Compass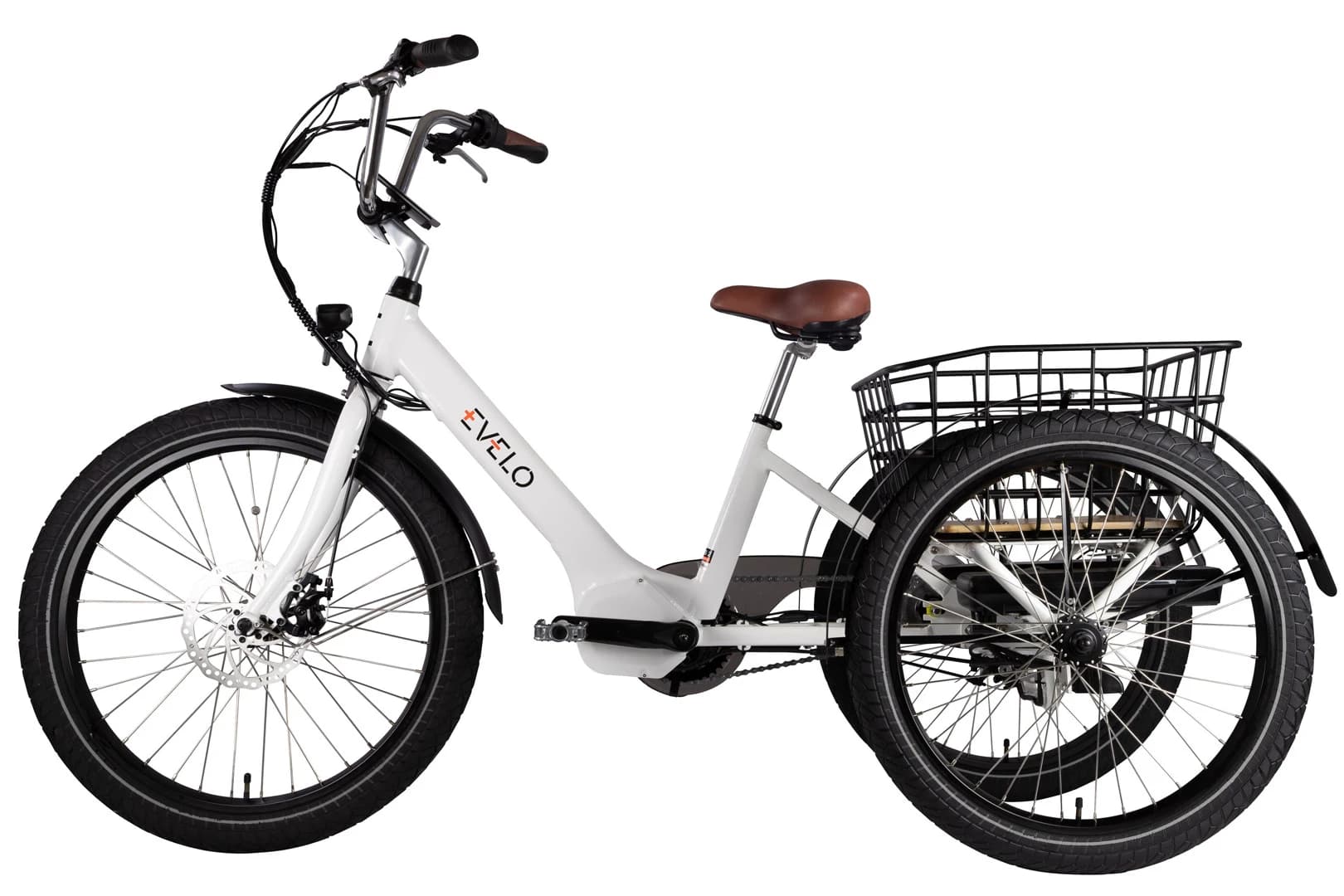 The Evelo Compass is a first-class three-wheeled fireball and is the perfect e-bike for someone looking to get back out on the road who may have concerns about stability. The Compass takes those worries away and does so with a powerful 500 W mid-drive motor. An easy step-through frame makes mounting and dismounting a breeze.
You can get out and explore with the 40-mile range thanks to the high-quality Lithium-ion battery, and the 4-year warranty offers some serious peace of mind. You can ride it shortly after it arrives since it ships nearly fully assembled.
Featuring Pedal Assistance and throttle, you can have complete off-road control of your speed while resting your legs or pedal with a bit of a 'tailwind.' The true two-wheel drive sends power equally to the rear wheels, adding traction and increasing safety during starting, stopping and, most importantly, turning.
Radio Flyer M880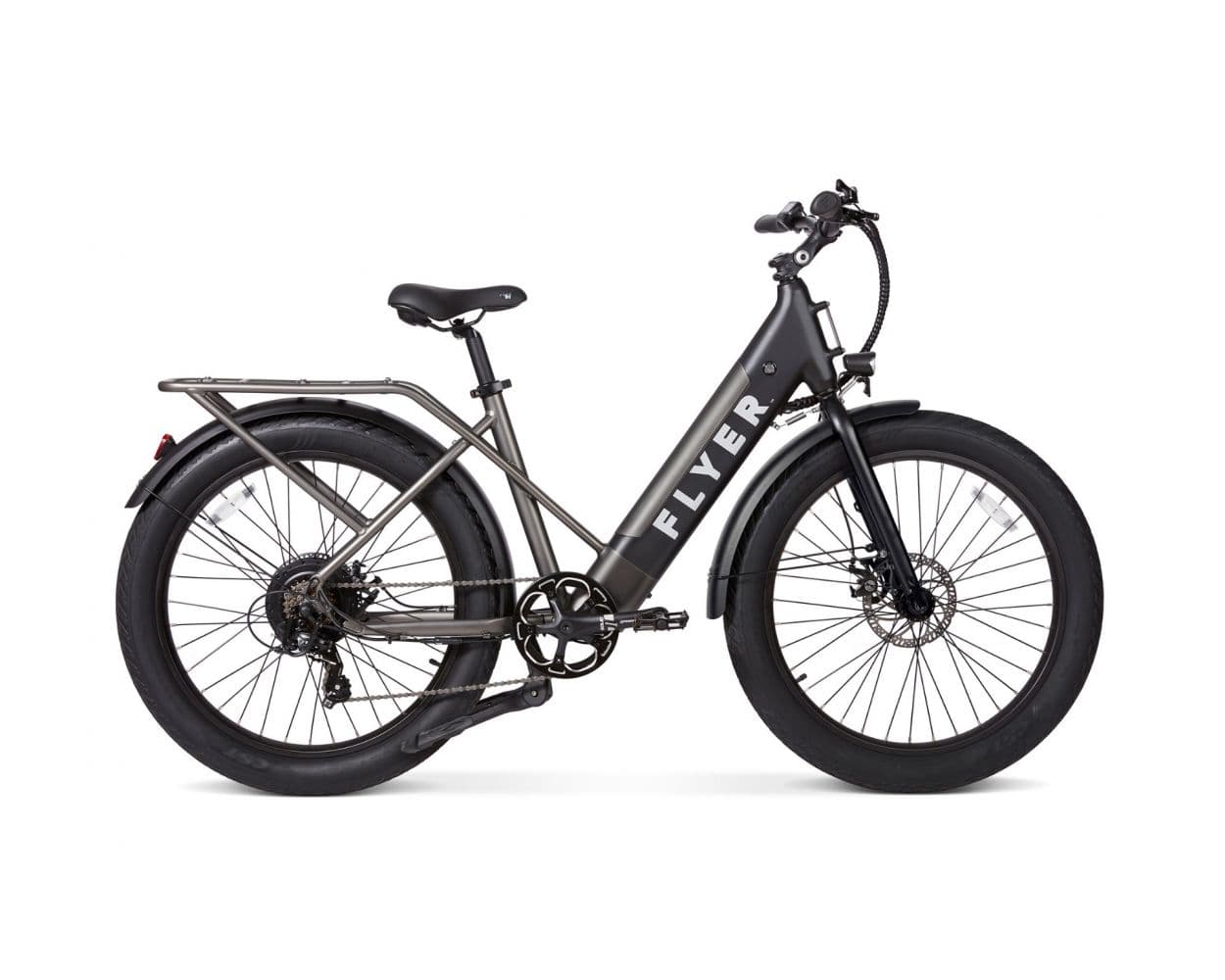 The Radio Flyer name is a blast from the past. But make no mistake, the Radio Flyer M880 cargo e-bike is a thoroughly modern way to travel. This bike delivers power, speed, performance, and hauls cargo.
This is the perfect e-bike for seniors who like to zip around town with a robust 500W engine and 50-mile range lithium-ion battery. The puncture-resistant tires and integrated rear rack give you peace of mind and convenience for your journey.
The step-thru frame will have you getting on and off the bike with ease. And the five levels of pedal assist let you climb hills and travel further than ever.